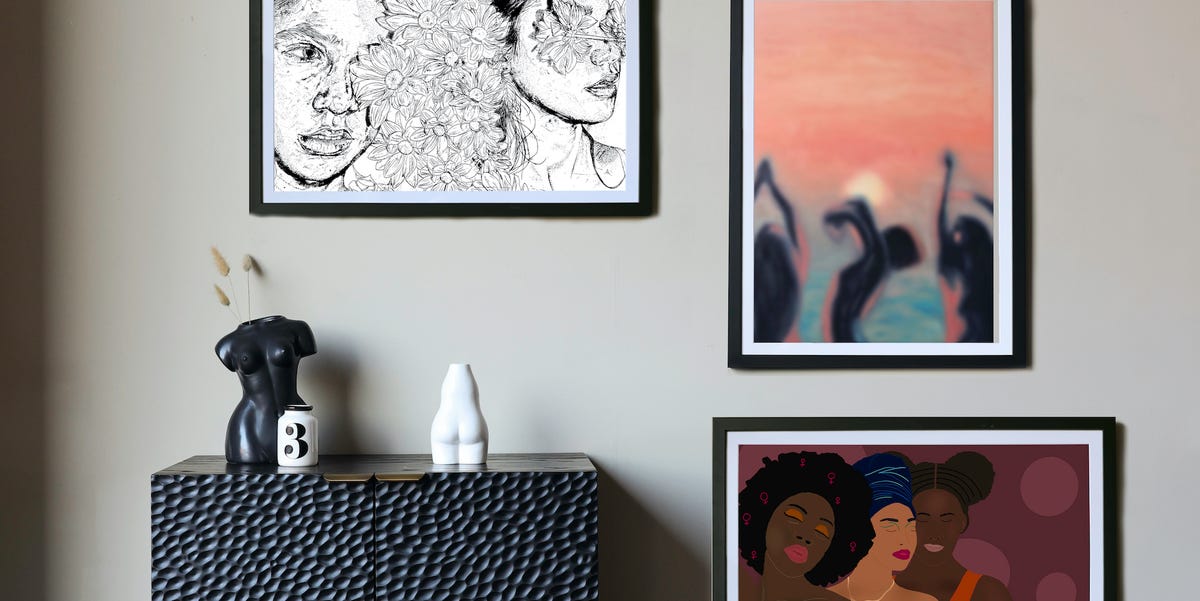 6 Brilliant Prints By A New Generation of Female Artists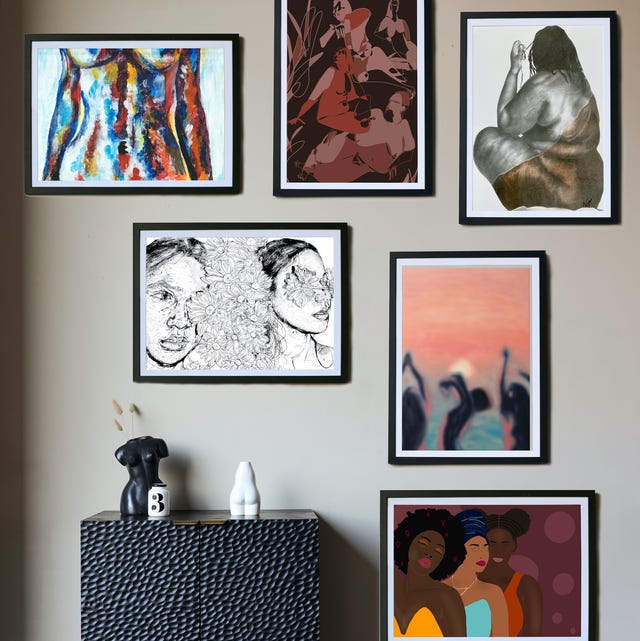 Rockett St George
We know the power art has in transforming a plain wall, whether as a single framed piece or within an artfully curated gallery wall, but it's so much more than just adding personality to a living space.
When shopping for art, knowing the story of the artist or the artwork brings an intimacy and value that goes beyond the visual interest. So if you're looking for some new prints to grace your walls, look no further because Rockett St George have just launched some very special prints by talented young female artists from all over the UK.
Rockett St George co-founders, Jane and Lucy, treasure hunt across the world in search of unique, glamorous and eclectic home furnishings to inspire others to create a magical and extraordinary home – and now six unique pieces of art sit amongst their cleverly curated collections.
As part of a collaboration with The Prince's Trust's #ChangeAGirlsLife campaign for International Women's Day, a competition tasked talented young female artists to create a piece of artwork that captures the spirit of what women supporting women means to them.
Six worthy winners were chosen and now each artwork has been created into professional art prints, available to buy online at Rockett St George and at the retailer's concession in Liberty London, with 25 per cent from every sale donated to The Prince's Trust.
The prints will be sold for a year until International Women's Day 2023 and the funds raised will help to support more young women and change their lives for the better, whilst also raising the profile and awareness of six talented young female artists. So who are they? Natasha Muluswela, Leyla Sitki, Sylvia Tirado, Lucy J Turner, Sophie Chittock and Meig Sutherland. Find out more about these talented artists, the story behind their art, and how you can style their art in your home.
Advertisement – Continue Reading Below
1. Challenge The Conventions by Natasha Muluswela
Natasha Muluswela, 26, is a Zimbabwean-born artist living in the UK. With a focus on body positivity in the face of society's unrealistic beauty standards, Natasha creates incredible pieces of art that celebrate the diversity of the female body.
About the artwork:
Challenge The Conventions questions and confronts what society deems to be beautiful by exploring inspirations that range from vitiligo to stretch marks and ageism. Natasha concentrates on how these unique markings made by nature are instead a true and beautiful part of human existence.
Challenge The Conventions
rockettstgeorge.co.uk
How to style it in your home:
Offering an inspirational message and a definite talking point, dsplay this piece in a high traffic area – it's perfect in a hallway and it would suit a gallery wall too. It would also make an extraordinary gift so that this inspirational message is passed on.
Size: A2 / Available Framed (£125) or Unframed (£60)
2. Just A Part Of Me by Leyla Sitki
Leyla, 24, has recently resurrected her love for painting as a way to discover a new sense of self and to disconnect from life's daily stresses. With every brushstroke, negative and discouraging thoughts are diminished. Leyla focuses on self-portrait nudes in beautiful colour palettes.
About the artwork:
Just A Part Of Me reclaims how we view ourselves and celebrates the power of self love and confidence.
Just A Part Of Me
rockettstgeorge.co.uk
How to style it in your home:
Perfect as part of a galley wall, use the colours in this piece to curate an eclectic wall display.
Size: A2 / Available Framed (£125) or Unframed (£60)
3. Liberation By Sylvia Tirado
Latin-American Sylvia Tirado is a 16-year-old artist living in London. She uses a variety of media in her works with the central focus on womanhood and the female experience. As an adolescent, she incorporates her own experiences and current issues she believes in within her art, and she is a firm believer that women supporting women can lead to beautiful empowerment.
About the artwork:
Liberation raises awareness of domestic abuse and gives homage to the victims and survivors. After reading many survivor stories, Sylvia was incredibly inspired to see how strong women can be. Liberation reveals two sombre faces through etching and printing techniques, contrasted with flowers in the centre to symbolise regrowth, freedom and hope.
Liberation
rockettstgeorge.co.uk
How to style it in your home:
This monochrome print would fit perfectly on its own in the hallway, home office or in an alcove in the living room.
Size: A2 / Available Framed (£125) or Unframed (£60)
4. Collective Joy by Lucy J Turner
Lucy, 29, is a digital illustrator based in Bristol. Lucy makes use of bold, bright and colourful designs within her work, and is passionate about using art as a way to heal from trauma. At the age of 23, Lucy was diagnosed with a rare form of cancer and began to start art therapy sessions. This experience has now developed into a career for the talented artist, who introduces a unique and captivating sense of joy through her artwork.
About the artwork:
Lucy takes inspiration from black bodies, and in particular, Black women and celebrates them as the focus of her digital work. Because Black women are often unfairly left out of the narrative, Lucy's aim within her work is to highlight how simultaneously powerful, vulnerable and beautiful Black women are. Lucy's artwork reveals three beautiful women standing together to perfectly capture the collective joy of women supporting women.
Collective Joy
rockettstgeorge.co.uk
How to style it in your home:
This joyful, uplifting print will command a wall on its own. It's perfect in a bedroom or home office, or use it as the focal print on a gallery wall.
Size: A2 / Available Framed (£125) or Unframed (£60)
5. We Rise by Sophie Chittock
Sophie, 26, found that throughout her life, people told her that being creative is a hobby, not a profession. Continually met by negative reactions to her dream to be an artist, Sophie was made to feel that art was not a viable career option and believes that the traditional idea of work culture makes it challenging for women to try to build their lives and careers. But Sophie's experience has also taught her the power of women supporting women, and in 2022, she is dedicating her time to become a full-time artist.
About the artwork:
Sophie's painting is inspired by a memory of her and her friends travelling to the beach to see the sun rise from the calm ocean every year. This tradition provided an opportunity to watch the sun come up together whilst musing about life, goals, falling in love, and endless exciting possibilities. We Rise celebrates the power of finding these moments with the women you love, rising together with the sun, and always supporting each other.
We Rise
rockettstgeorge.co.uk
How to style it in your home:
This empowering piece of art is perfect for a quiet, reflective area, whether it graces the wall of an office or a reading nook in your home.
Size: A2 / Available Framed (£125) or Unframed (£60)
6. Trust By Meig Sutherland
Meig Sutherland, 24, is a Fine Art graduate based in Glasgow. Exploring art through both traditional and non-traditional methods, Meig has developed her passion of drawing and painting the human form to create her own unique style. By connecting figures together, she combines a series of poses in her work to capture the varying forms that the body has when in motion.
About the artwork:
Trust explores the idea of leaning on someone and women relying on one another. It looks to capture the unique communication and understanding women have with one another, illustrating through abstract female forms how women support and hold each other up in life.
Trust
rockettstgeorge.co.uk
How to style it in your home:
This bold print would work well as part of a gallery wall, especially along the staircase.
Size: A2 / Available Framed (£125) or Unframed (£60).
Follow House Beautiful on Instagram.
This content is created and maintained by a third party, and imported onto this page to help users provide their email addresses. You may be able to find more information about this and similar content at piano.io
Advertisement – Continue Reading Below