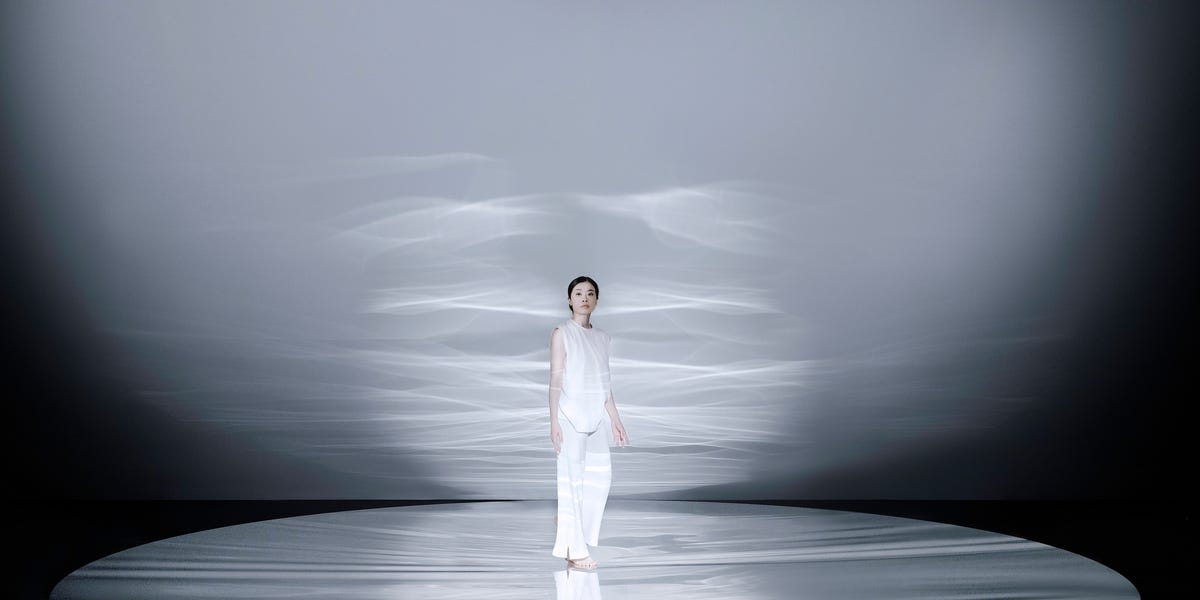 A Moment of Timeless Beauty at Art Basel Miami
After a couple of years on pause, life is busy once again. Streets are bustling with anticipation and conversation. It's easy to get caught up in a stream of events without taking a minute to appreciate the small, beautiful moments in life. The question is, how do we find the time to do so?
To create an ode to Switzerland's majestic landscapes, serenity, and the sublime, the skincare brand La Prairie has collaborated with Taiwanese new media artist, choreographer, and dancer Wen-Chi Su to create an immersive and contemplative performance. On December 1st and 2nd, at sunrise and sunset, Su presented "Moving Towards the Horizon," a stunning 10-minute performance embodying the encounter of light and water.
In her performance, created exclusively for La Prairie, Su brings Switzerland's serene landscape to the Miami coast. The city's oceanfront waves offered the ideal stage for the immersive outdoor installation. La Prairie and Su served as guides through a journey to discover a pure moment of beauty in nature. The goal was to encourage the audience to consider a pause for self-contemplation.
A perfect fusion of art and science
La Prairie's pioneering approach to skincare intertwines creative intention and rigorous innovation to offer a perfect vision of timeless beauty. While art is often abstract, fluid, and influenced by the imagination, and science is exactingly precise, the two disciplines have more similarities than you would think. That is why Su's alliance with La Prairie is a harmonious and instinctive meeting of minds. For Su, dance is an art form steeped in science and precision. Influenced by her residency with the prestigious Accelerate@CERN program, she highlights the common links between scientists and artists. "Art and science are not two separate notions. We are honest to each other's methods, but both our goals are to create something beautiful."
Su compares the scientific language of graphs, fractions, and calculations to the language of dance, with its reliance on the art of abstraction and the creation of "techniques, shapes, movements considering weight shift and energy control." She believes research and imagination both aim "to create a common language of understanding." The performance was a unique opportunity to experience the intersection of these two linguistic expressions.
Read our exclusive Q&A with Wen-Chi Su below.
On how she defines her work
"My work is about bringing two very different genres of art—performing art together with new media art—to facilitate and encourage a new process of thinking. By colliding these two worlds together, we trigger something new for the artists involved in the process but also a new experience for the audience."
On how her dance interacts with new media
"New media is a new form of art which emerged about fifteen years ago. Dance has been present for millennia. Bringing a new form of art together with dance allows [one] to question the way the body interacts with the world."
On what message she wants to convey through her art
"Through my works, I want to create moments of calmness and beauty so that people take a moment to step back from the hectic world to reflect on different aspects of life and its associated elements. This means focusing on the body itself and its connection with nature."
On her collaboration with La Prairie
"When La Prairie approached me with an opportunity to work together, I appreciated the proposition of an exchange. I find my inspiration through true collaboration. Having a community like the one at La Prairie has been very enriching for me to conceptualize and create the experience around the theme of light and water."
On how she brings these elements together on stage
"I was very much focused on translating the essential elements of light and water into a dance performance. The stage—the light, the sound, the choreography—all come together to recreate these moments where time and light flow."
Discover her performance, "Moving Towards the Horizon", at Art Basel in Miami Beach.
"Moving Towards The Horizon" is an ode to La Prairie's upcoming launch, White Caviar Essence Extraordinaire, an exceptional essence that pushes the boundaries of science, inspired by the magical encounter of light and water and delivering a glimmering luminosity on the skin.
This content is created and maintained by a third party, and imported onto this page to help users provide their email addresses. You may be able to find more information about this and similar content at piano.io