Children's Nature Playscape construction begins in downtown Kalamazoo
Funds are secured, materials are being ordered and construction is scheduled to begin on the Children's Nature Playscape on Bronson Park, a new playground that eventually will be one of the largest natural playscapes in an urban core.
 The 130-foot square greenspace at 302 Academy Street, slated to open next summer, is a nature-inspired space that will give kids rocks and trees to climb, water to splash in, and logs to traverse — right in downtown Kalamazoo.  
"We are planning for a soft opening June 1," says Jody Brylinsky, Children's Nature Playscape on Bronson Park Steering Committee chair. Children and families will be welcomed to the site with some areas yet to be developed.
Construction will continue throughout 2022 as features and plants continue to be added. As is the case in the natural world, trees will get bigger, flowers will grow, and new opportunities for exploration will continue.
Outdoor play is especially important now during the COVID-19 pandemic, and the new play area is a welcome opportunity, community leaders say.
Rachel M. Roberts, director of preschool programs for Kalamazoo Regional Educational Service Agency, says the new playscape will provide children the opportunity to express themselves through nature and increase gross motor skills as well as social skills.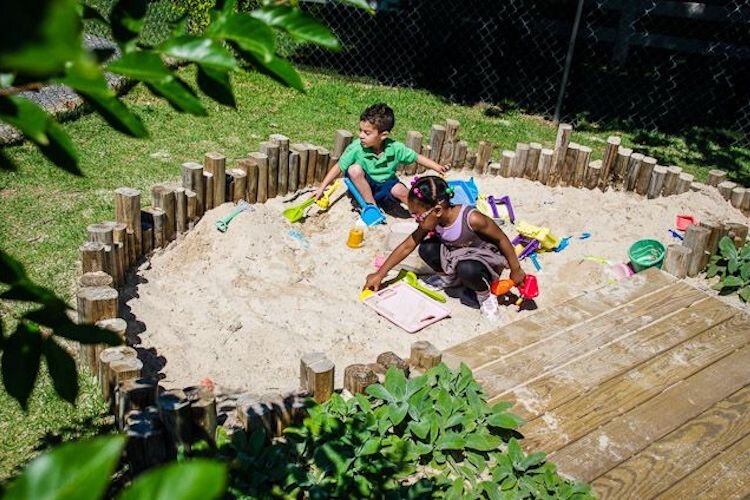 Children will be able to dig in sand."In the midst of the COVID and racial pandemics that are plaguing our country," Roberts says, "play is a healthy way to address mental health as it lends itself as an outlet to reduce stress and anxiety."
Ming Li, Dean of Western Michigan University's College of Education and Human Development, says the new nature playscape serves as a place to "encourage children and their parents to connect with nature, exercise their right to play, and practice discovery-based learning in the heart of the city."
The project began in 2019 when the First Congregational Church funded the purchase of the property and necessary site preparation. The planning committee had hoped to do some of the site preparation this fall, but delays in scheduling contractors make that unlikely.
"At this point moving soil and concrete paving for features, putting up fencing, and other required improvements will occur when the weather breaks early next spring," Brylinsky says. Still, behind the scenes materials are now being ordered and contractors scheduled for 2022. 
"We hope to avoid any supply chain delays with this proactive action," she says.
Construction will kick off with a formal groundbreaking, date and time to be announced.
Meanwhile, the area, near downtown Bronson Park, remains an open green space.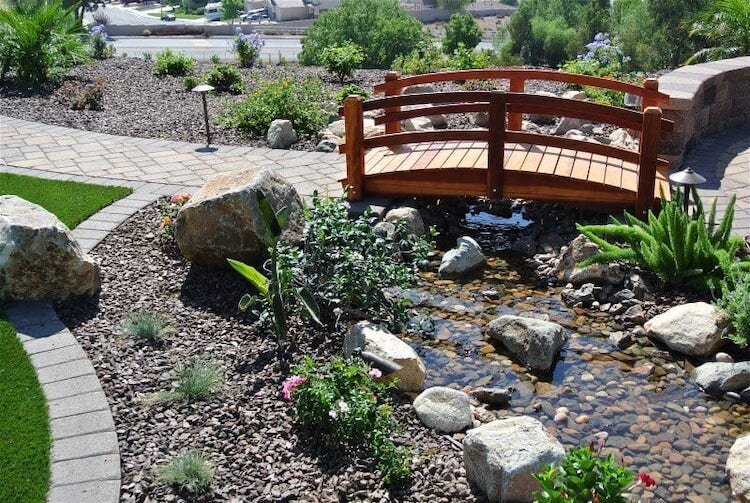 A footbridge is planned as part of the Children's Nature Playscape."The turf is still pretty immature and has not been cleared for small children play," Brylinsky says.
But by next summer that space will be transformed into a safe and accessible space for young children of all backgrounds "to interact freely and creatively with the natural world," Brylinsky says.
Nature's playground won't include the usual array of swings, slides, and jungle gyms. Instead, children will find shallow creeks, boulders, trees, and other nature-inspired  features.
The playscape design is barrier free and compliant with the Americans with Disabilities Act. It will include a paved walkway, low-level log benches for children, and artistic benches for adults throughout. 
Signs will be designed to meet the needs of families with visual or physical challenges, and as funds become available a small toilet facility will be erected in the northeast corner of the playscape. 
The playscape will be bordered by native tall grass, shrubs, and plants to create a sense of neighborhood and home. Much of the transformation will occur next spring with landscape improvements and the installation of age-appropriate play structures, including a pondless water stream and grass turf. Mature trees, shrubs, grasses, perennial plants will take time to develop into the full scope of natural features.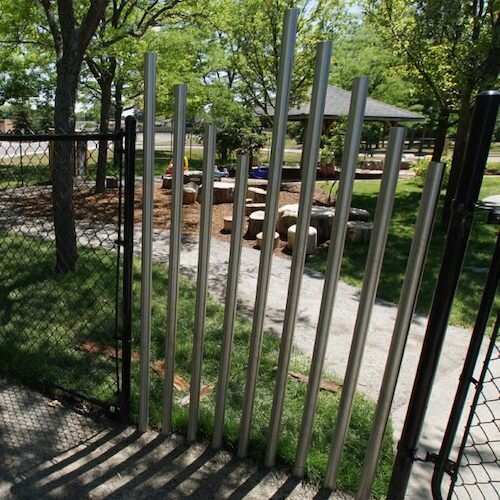 There is a general play space and two play areas geared to children's ages that contain features such as a preschool log obstacle course, a log climbing structure, a sand play area, and a hollow log tunnel. A sensory garden will be installed as funds become available.
In addition to providing city kids a spot to romp in near Bronson Park, the new playscape can help promote environmental education, from spontaneous play to formal teaching.
The design includes a performance platform to allow for community groups to hold educational programs. With guidance from the Match-E-Be-Nash-She-Wish Band of Potawatomi, the Kalamazoo Nature Center, and other educational, spiritual, and youth-focused community partners, nature-inspired public programming will be provided at no cost.
There is a space for some small, raised garden beds to encourage understanding of food sources.
The playscape will be surrounded by a 6-foot fence approved by the Downtown Design Review Committee of Kalamazoo. Bicycle racks, wheelchair parking areas, and sufficient trash containers will make it easy for patrons to help maintain a clean and healthy environment.  There will be a grand entrance on the southeast corner of the property welcoming everyone into the Playscape.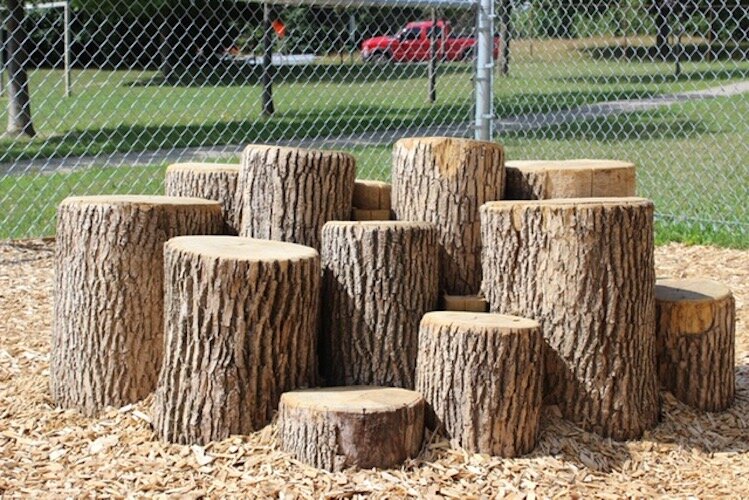 Instead of swings and slides children will be able to climg on stumps at the Children's Nature Playscape.Ideas for the space were developed with community input by a team led by Sandy Bliesener, Rachel Hughes-Nilsson, and Deborah Dawe. Tricia Keala from Safer Outdoors, part of the OCBA Design Team,  has helped create a park with as inherently natural a setting as possible. 
Fundraising continues to secure support from local foundations, philanthropic organizations, and community members. 
To find out how to volunteer, make an in-kind donation of materials, or provide a financial donation visit Kalamazooplayscape.org.
"Our landscape architect is stockpiling material," Brylinsky says, "and we hope to launch an in-kind donation campaign where local nurseries and green industries can contribute to the 'greening' of the playscape."
What's next?
The Children's Nature Playscape will be participating in the nationwide philanthropy campaign called #GivingTuesday, Nov. 30, with a goal of raising $10,000 is to provide specific funding for the All-Ages Sensory Garden in the new Children's Nature Playscape. 
The All-Ages Sensory Garden will feature special fencing that children enter through a secret gate.  The garden's surfaces, objects, and plants will stimulate the senses through touch, sight, scent, and hearing. Visually challenged children will get a feel of trees and shrubs identified by markers written in Braille and English. Priority will be given to plants, shrubs, and grasses that are native to West Michigan, especially those with cultural significance to the Match-E-Be-Nash-She-Wish Band of Pottawatomi Indians.  
Go to KalamazooPlayscape.org to participate in Giving Tuesday or to support the playscape.
About Children's Nature Playscape
The Children's Nature Playscape is a project of the First Congregational Church of Kalamazoo, Michigan, which is a 501(c)(3) nonprofit organization. All gifts and contributions are tax-deductible to the extent allowed by law. The Children's Nature Playscape does not sell or rent its donor list to any organizations or mailing houses. The Children's Nature Playscape Steering Committee oversees the development and operations of the Children's Nature Playscape. Steering Committee members represent leading community partners, including the First Baptist Church, Kalamazoo Nature Center, Western Michigan University, Kalamazoo Valley Community College, and numerous community youth/service organizations