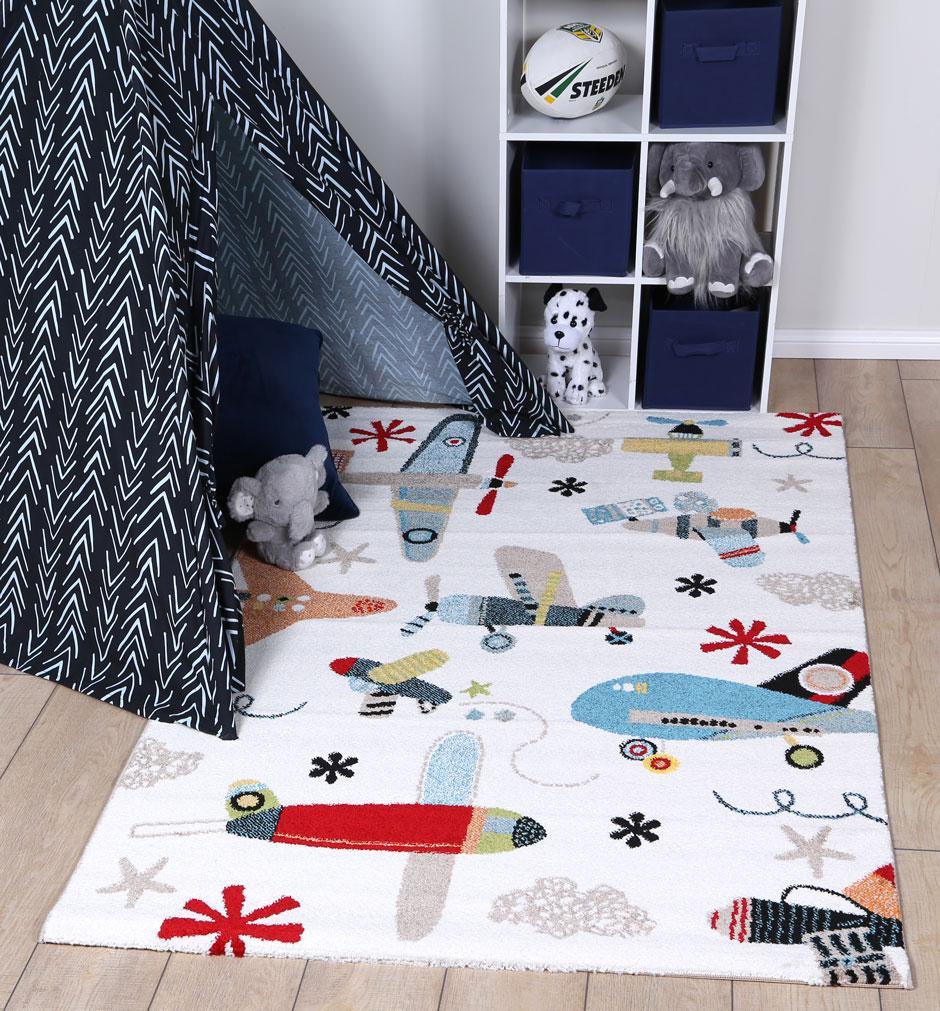 How to Decorate Your Toddler's Room with Kids' Rugs?
Modern parents give special attention to their kid's rooms to create a cheerful ambience. Playful bed linen, colourful furniture, cartoons on the walls, and stars on the ceiling provide a world of fantasy to the children that develop their imagination. While these decorative ideas might sound cliché, using creative kids' rugs has become trendy because they can give your toddler's room an innovative touch.
How to Choose Your Kid's Rugs?
Interior decoration revolves around a central theme or story narrated by every object in the room. While selecting your kids' rugs, you must step into their shoes and explore the world of fantasy.
Consider Your Child's Age:
Preferences change as your child goes from a crawling infant to a confident school-goer. Choose soft and fuzzy cotton rugs to give your infant the comfort of exploring the ground. The colours of the rugs should be bright and eye-catching to infuse infectious positivity and life into the room. As your kid grows, you can encourage their participation in interior decor by letting them choose the perfect rug that blends with their room's theme. You can also consider patterns, alphabets, and geometrical shapes to enjoy the fun of learning.
Choose a Theme:
A kid's room is full of quirky designs and whimsical patterns. But every decor idea should follow a specific storyline, or the room will look cluttered and overwhelming. Stick to the theme of your kid's room while choosing the rugs. Whether kilims, mid-century designs, Oriental, or Bohemian rugs, they should aptly blend with the theme of your child's room in terms of shape, design, pattern, and colour.
Go Bold with Colours and Shapes:
Vibrant colours are ideal picks for decorating your child's room. Play with bold colours and unusual shapes to give your kid a vibrant environment. You can choose animal prints or cutouts that your child will easily relate to. Avoid laying carpets on the floor as they are difficult to remove and clean and get discoloured over time. Layering rugs is a better option over carpeting unless there is a tripping hazard.
Read the Features Carefully:
Choosing decorative items for your kid involves extensive research and a thorough investigation of the product's features. While selecting rugs, choose the most comfortable material from cotton, jute, silk, bamboo, and wool. The rug should be water-resistant, stain-resistant, and machine-washable to enable easy cleaning and regular disinfection.
Choose a Non-slip Rug:
As your kid grows and learns to walk, he explores the whole room with his shaky feet, often falling and hurting his knees. To give your child a safe surface to run about, consider buying a non-slip rug that won't move from its place. This is also a crucial requirement, especially if your floor is polished or slick.
Read Reviews:
You would never like to compromise your child's safety and security. Consider purchasing a rug for your kid's room that hosts positive feedback and customer reviews. User reviews provide an authentic picture of the rug's quality, material, features, and longevity. Selecting a rug with excellent feedback will ensure your child's secure growth and creative development.
Conclusion:
A kid's room is the most imaginative corner of your house with vibrant colours, innovative themes, and creative furnishings. Kids' rugs should match the story of the decor and provide the utmost safety to your child during his growth phase.