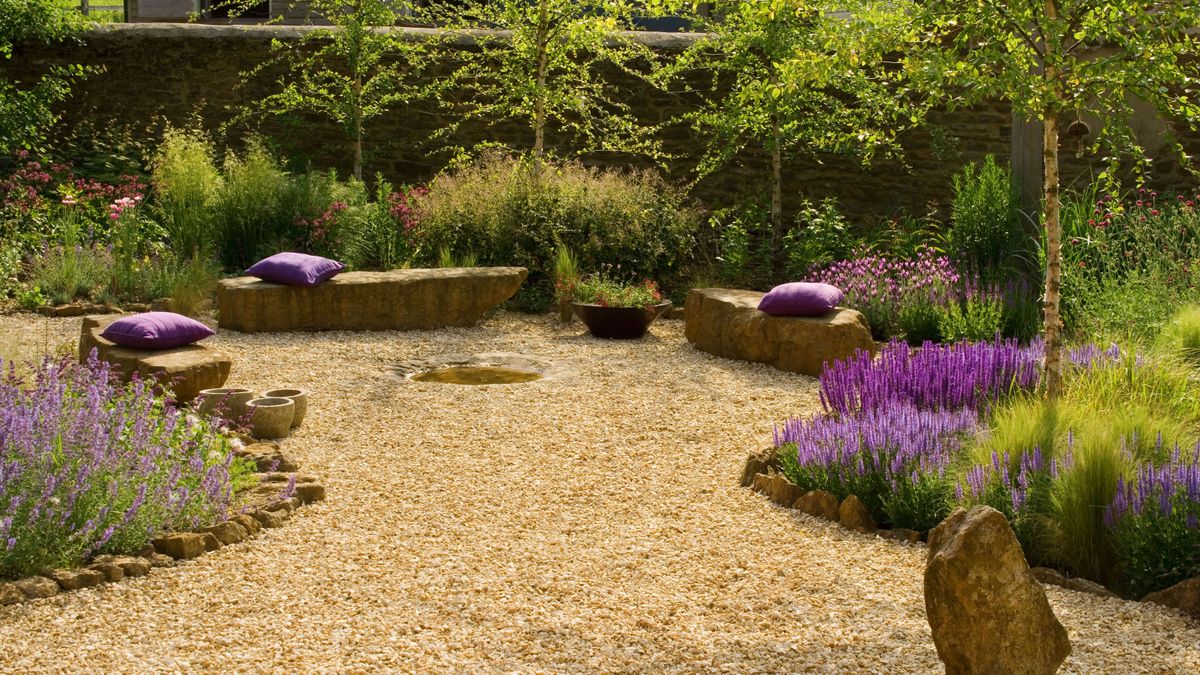 Landscaping ideas with rocks: 10 stylish nature-inspired looks
Landscaping ideas with rocks are a creative way to add depth and dimension to the yard. The beautifully weathered appearance of rocks helps to forge a connection between a manmade landscape and the natural world, as well as adding year-round structure to your design. 
Rocks can be used as part of a complex large-scale project with many aspects and layers, or in a smaller way, perhaps in a corner adorned with gravel and river stones. They're generally one of the low maintenance backyard landscaping ideas available, too, making using rocks a fabulous option for many.
Here, we've collected landscaping ideas with river rock together with other suggestions to inspire your project.
Landscaping ideas with rocks
Rocks can be used to define a slope, transform an area where little will grow or define and outline walkways and planting beds with an attractive arrangement including pebbles and gravel. Larger rocks can be used as garden sculpture to lend structure to the landscape or even for seating if you choose those with smooth flattened surfaces.
1. Choose a naturalistic landscaping design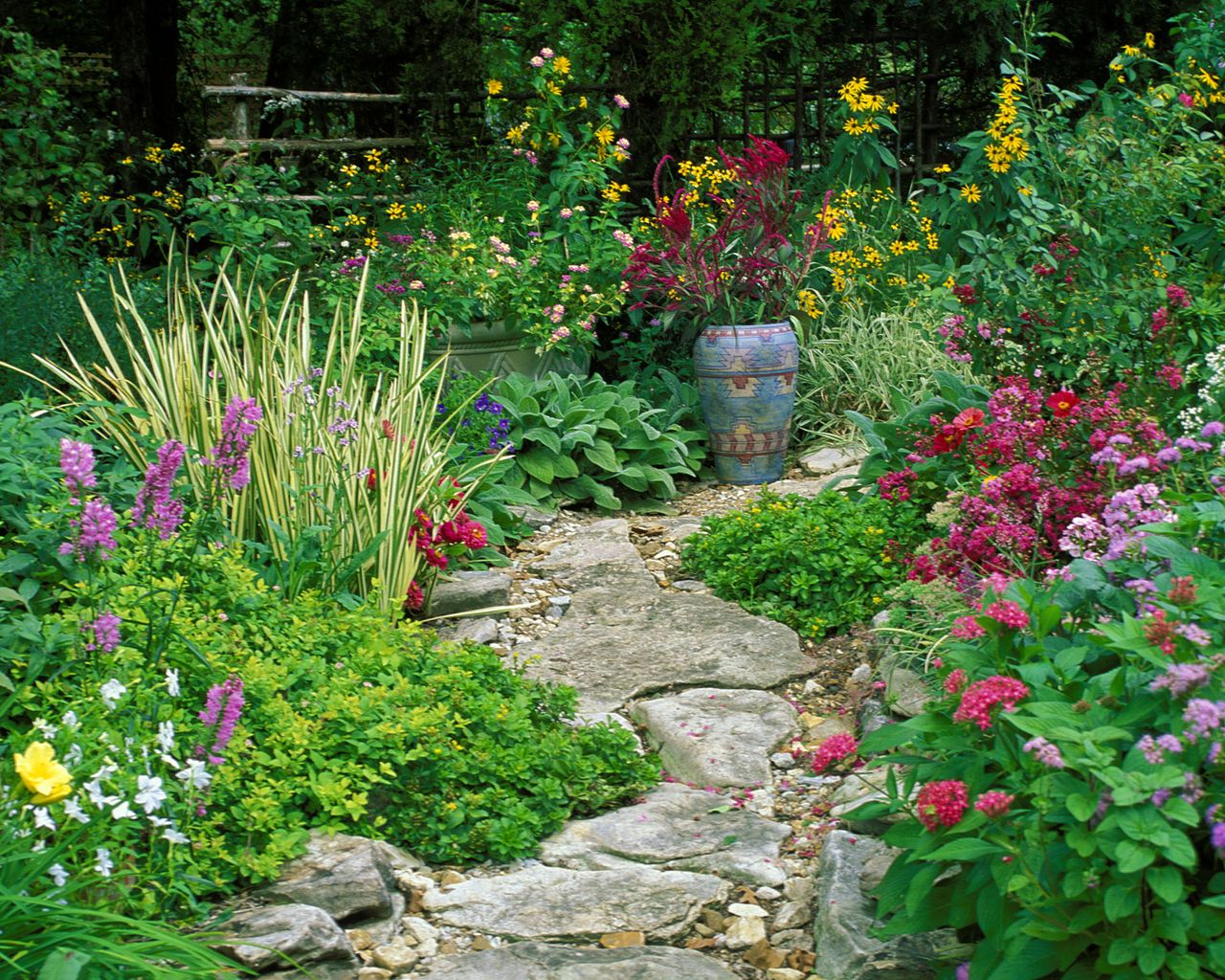 Using rough-hewn slabs for paved surfaces such as paths is one of the most popular landscaping ideas with rocks. They can be edged with gravel, pebbles or boulders to further complement a natural style that focuses on sustainability because it offers a porous hard landscaping choice that allows water to seep into the soil rather than run off.
If you want to build a rockery, local stone that weathers to produce varied surface textures is often a feature in naturalistic garden design, and planting to soften the edges is, of course, key to this look. This combination helps to create an informal space that comes together in a coherent composition.
To pull the look together, choose plants with harmonious or complementary colors to the rocks. Use a mix of plants with flower and foliage interest, and combine upright and creeping forms.
2. Opt for an easy low-maintenance style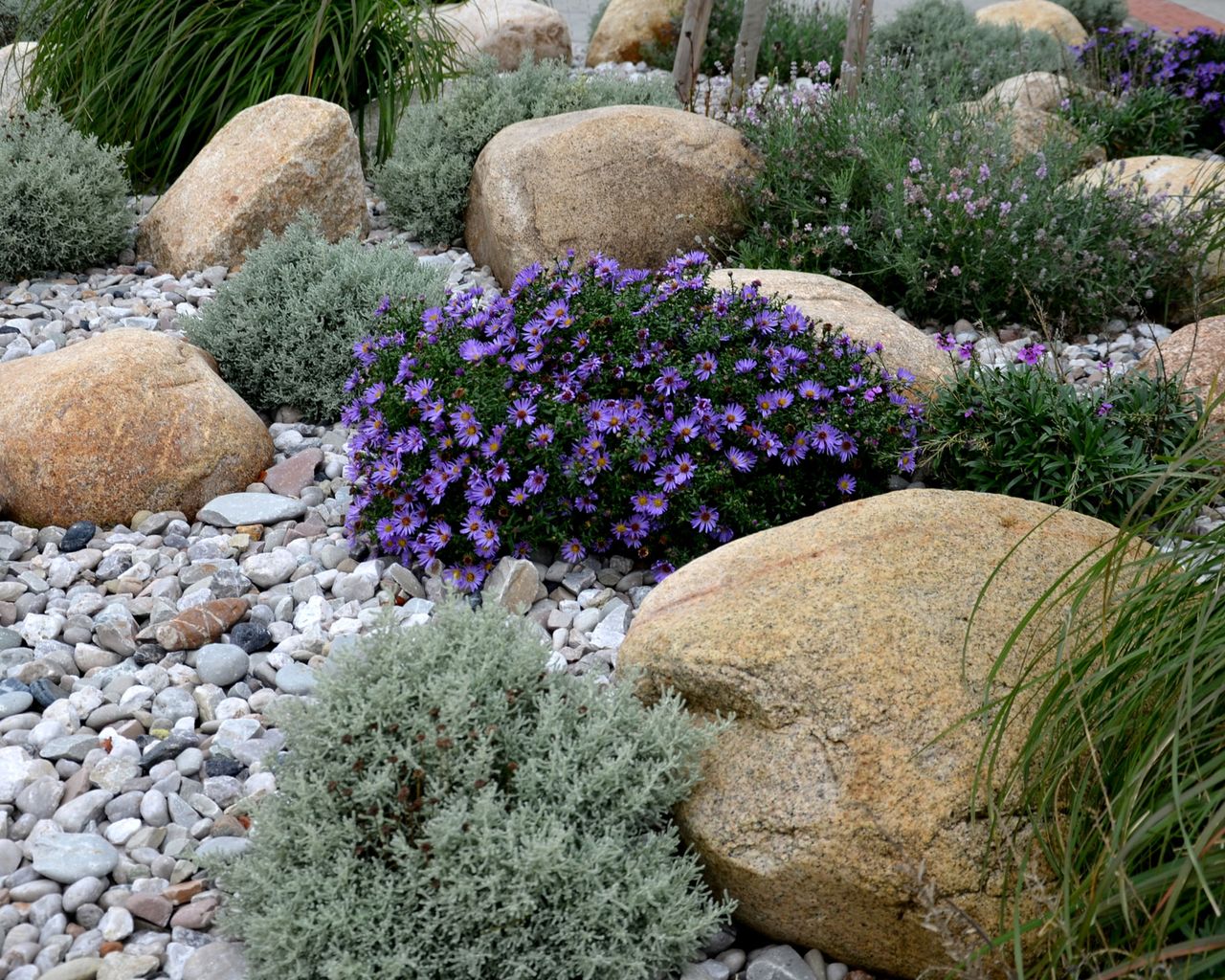 A ground cover garden that combines soft cushions of planting with pebbles and rocks is a low maintenance landscaping choice that suits most spaces. It's best to leave these rock garden ideas to evolve into a more natural look.
Instead of trying to create a fixed picture, landscaping ideas with rocks are best when ground cover is left to evolve from year to year in a scheme that takes its lead from the planting. By taking inspiration from nature, it's possible to adapt the approach to managing your backyard and opt for something suited to local conditions that's also easy to maintain. 
3. Introduce rocks into an urban setting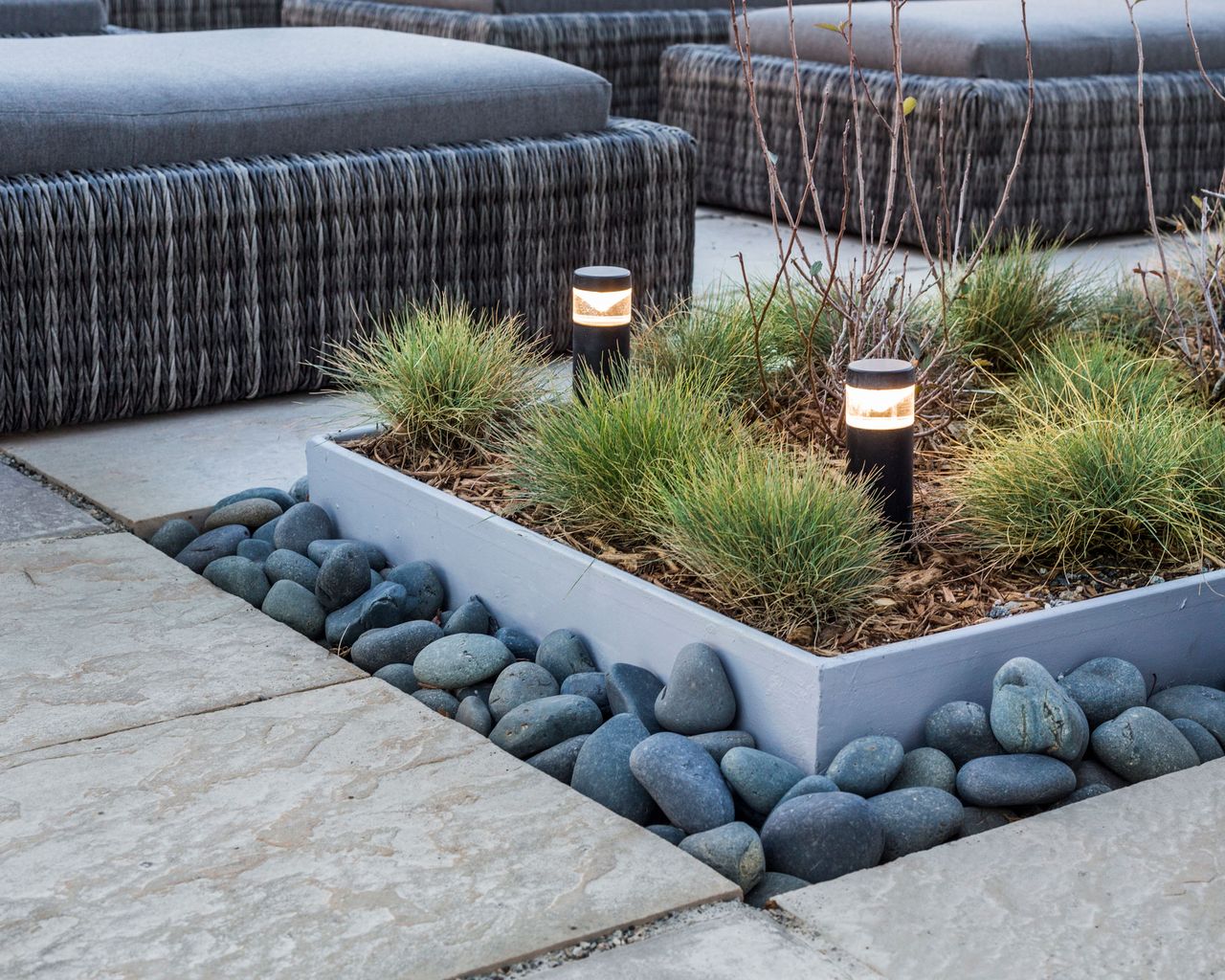 In urban landscape design smooth hard surfaces tend to dominate but garden designers often use the trick of introducing contrasting materials in a contemporary color palette to maximize texture and interest.
Adding a distinctive edging detail to enhance the space between smooth paving and raised beds works well in a bold architectural scheme. Decorative gray or black pebbles are available in a range of sizes and also come polished for a stylish finish. They work well in contemporary garden schemes or to create a cool contrast in your landscaping project.
4. Landscape with real river rocks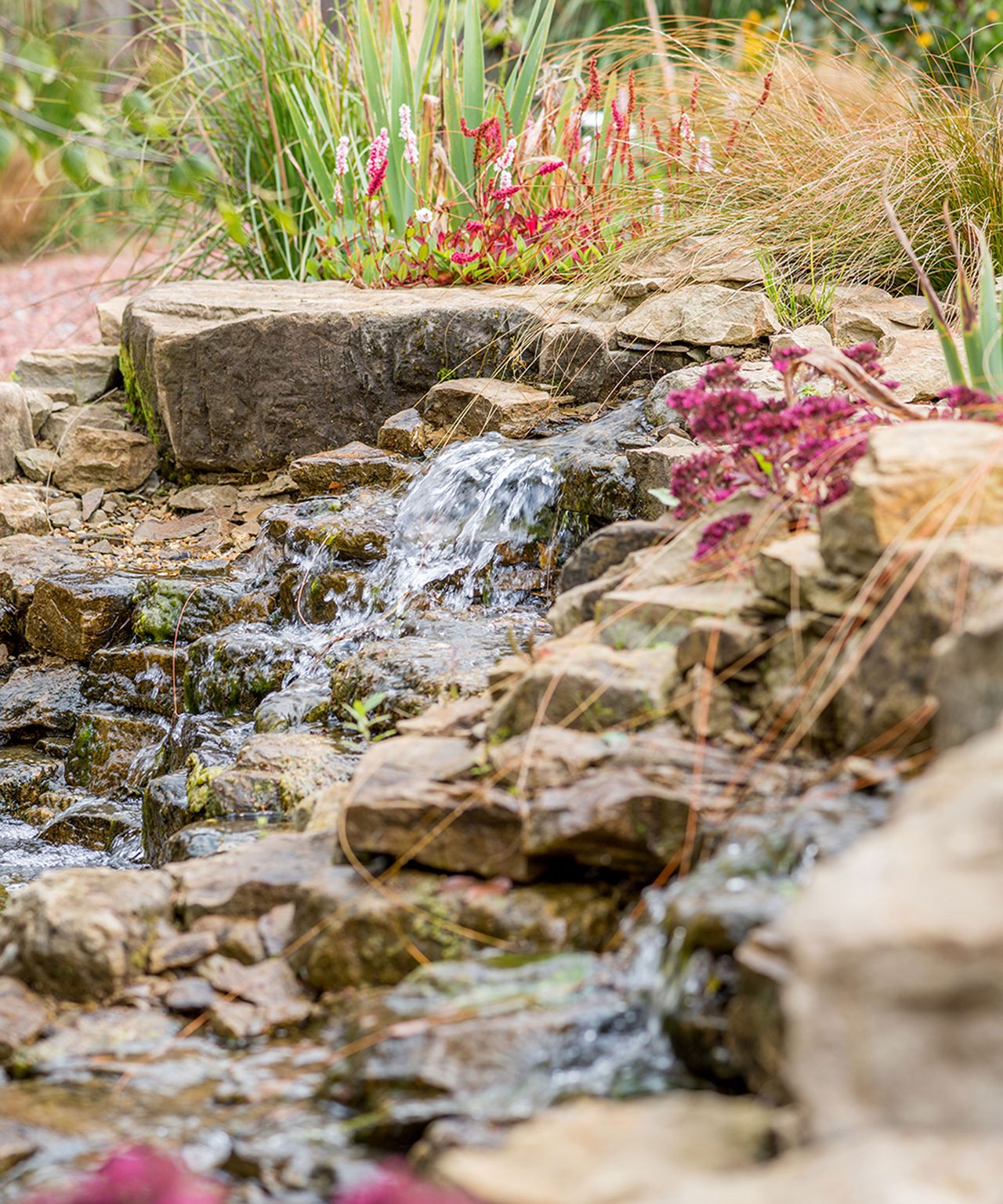 Opt for landscaping ideas with river rock to create a look that feels likes it's been there for ever. A naturally hard-wearing material, limestone will maintain its shape and appearance for years to come with very little maintenance. In fact, time and extended weathering only improve its curves and crevices.  
'I wanted to create a stream with waterfalls, essentially a natural feel that was inviting to wildlife,' explains garden designer Fiona Stephenson of this landscaping project featuring a natural waterfall over rocks. 'I designed shallow areas for birds to bathe and drink, and a "beach" for newts and frogs to access. 
'To make the stream look natural, it has a layer of mortar with gravel and small stones pressed into it. Additional small gravel and loose stones are added to create a natural effect. The sides and "falls" use Irish water-worn boulders, placing natural gulleys in the rocks to create falling water.'
5. Mix up different textures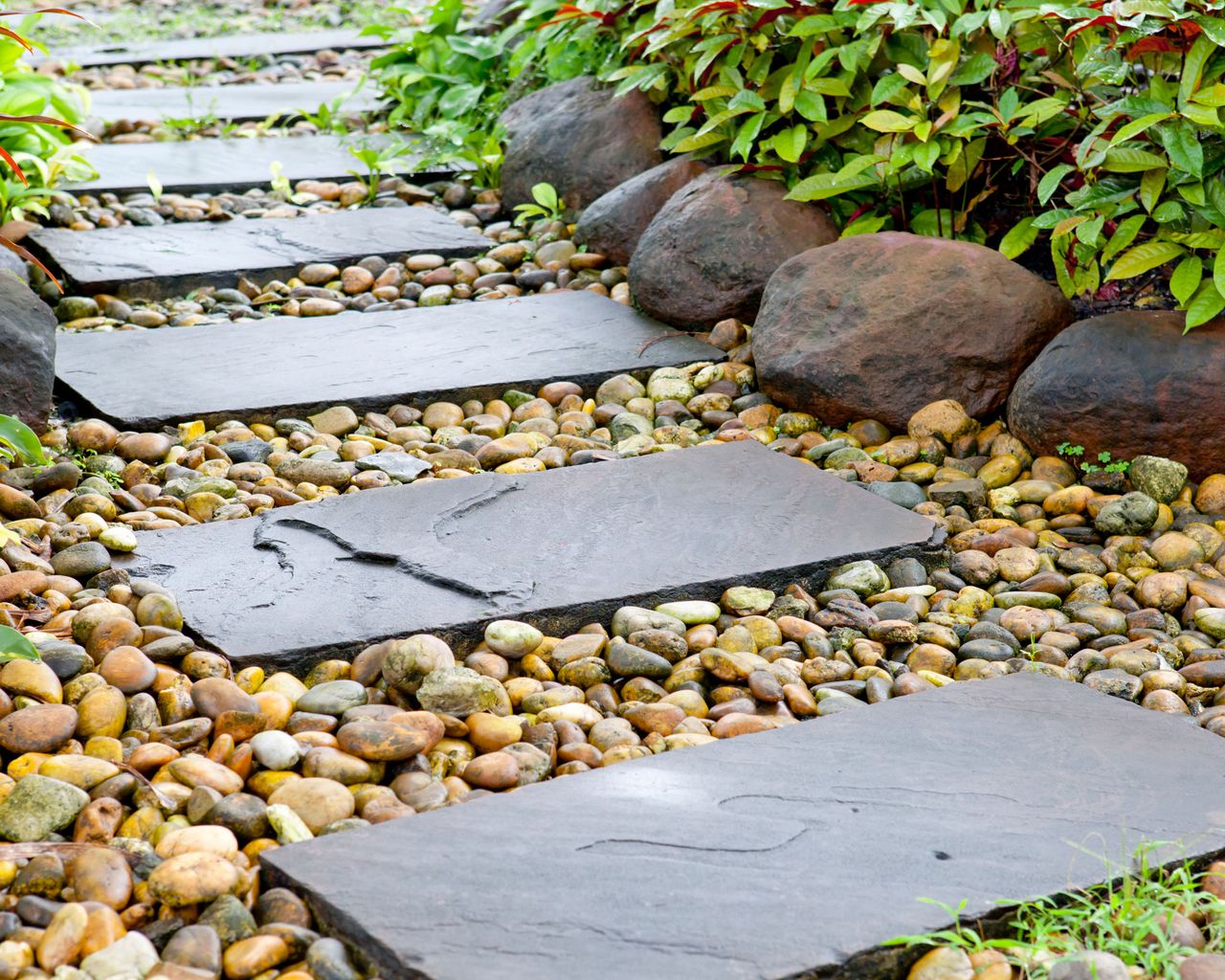 Designers often use a mix of materials to maximize texture and interest in their landscaping ideas with rocks. This can include both manmade and natural materials, such as flagstones or pavers mixed with river rocks or stones. 
Using gravel to infill around smooth slabs then adding an edging of small boulders turns a path into an interesting design that demands attention as a feature in itself rather than just a path from A to B.
If you prefer the idea of a pebble path, try paddlestones. These are large pieces of slate that have been tumbled to round off the edges. The result is smooth and flat stones that are easy to walk on. In Japanese garden design they are used to create decorative paths designed to resemble a river bed. 
6. Work a Mediterranean look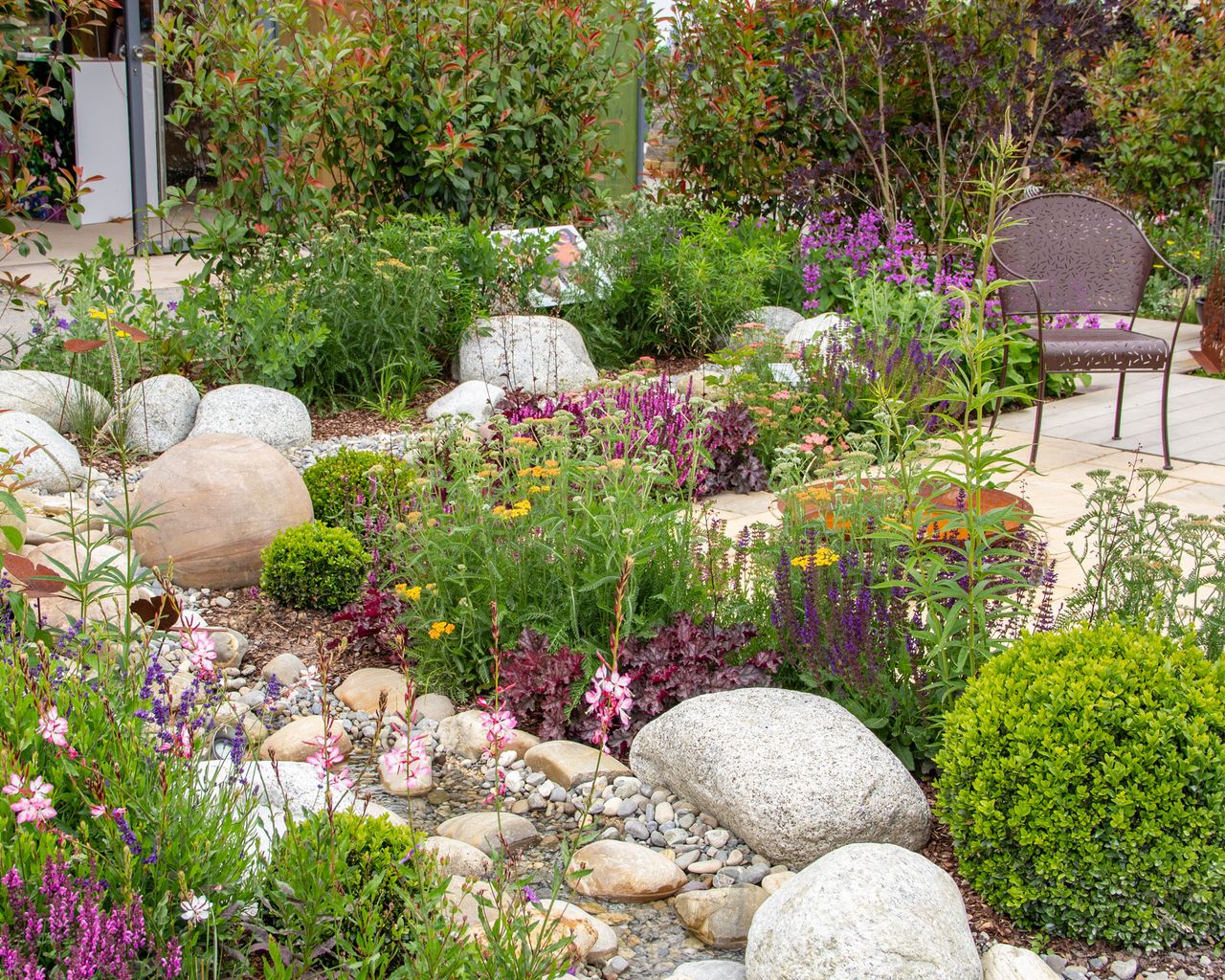 In the Mediterranean garden landscaping ideas with rocks include an irregular combination of these plus pebbles to create a stony terrain. These can be interspersed with a natural planting scheme that combines a tapestry of different colors and textures using perennial plants.
Taking inspiration from the natural scenery of the Mediterranean, try introducing a variety of plants that work well landscaped with stones and rocks. Many are happy to settle their roots straight into gravel. The gaps between the stones will soon be colonized by self-seeding plants which helps your landscaping design subtly evolve from year to year. Random groupings of stones will look more natural than placing them in neat rows or organized patterns.
Try drifts of hardy and low-growing plants including lavender, herbs, succulents and grasses to create a naturalistic and wild look.
7. Embrace a Japanese aesthetic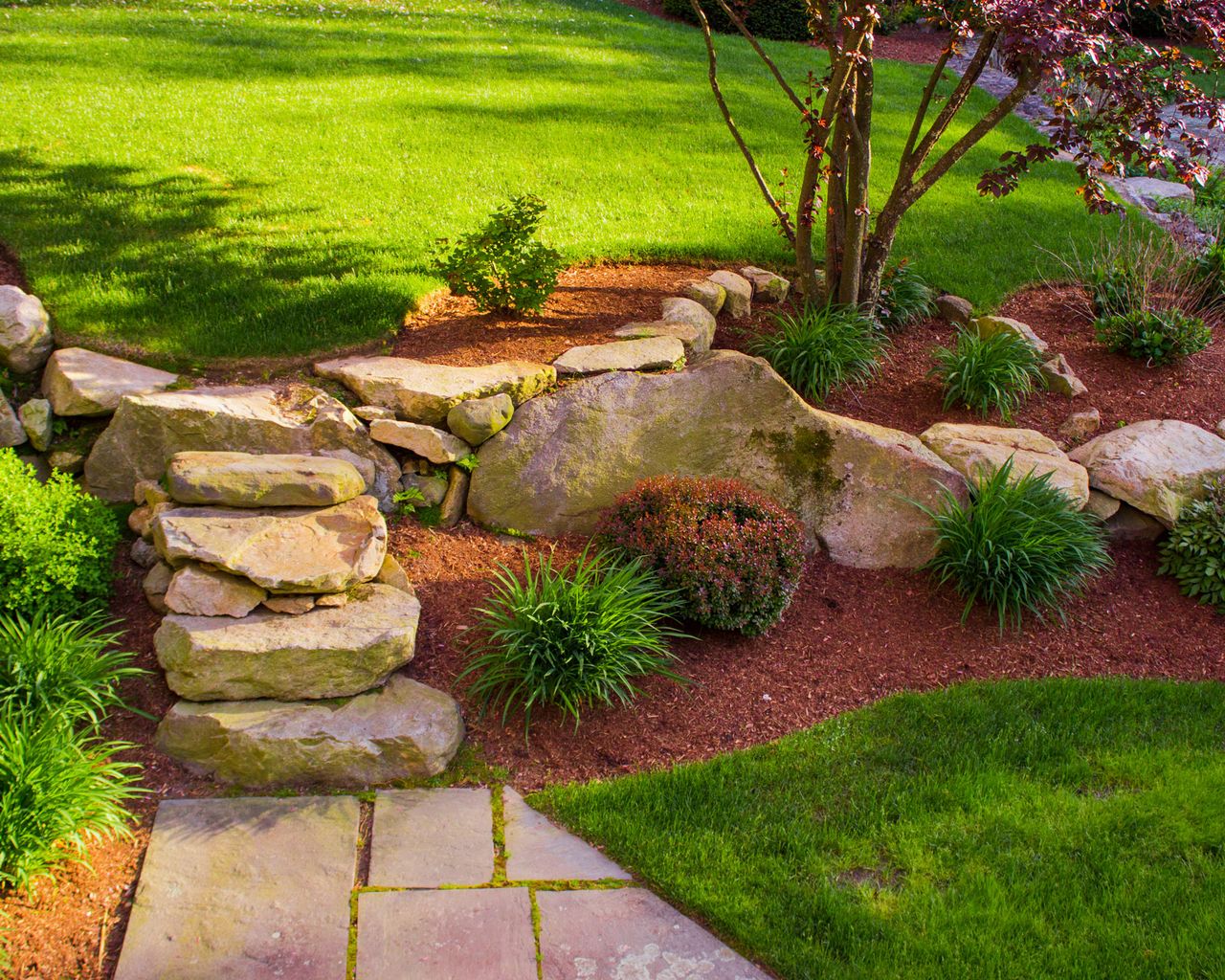 The balance of hard landscaping elements such as rocks, stepping stones and gravel, contrasted with tightly clipped shrubs and trees, is one of the features of Japanese garden ideas that's particularly appealing.
Rocks are selected for their weathered qualities, color and aesthetic appeal, and their innate characteristics are given careful consideration before they are integrated into the design.
In this garden a simple flight of stone steps adds a vertical accent that invites you on a journey of discovery, while carefully placed rocks help to define planting areas. The rocks and stones form a sculptural route between one level of the garden and another. Hard and soft landscaping combine to create a stylish space.
8. Go large for dramatic impact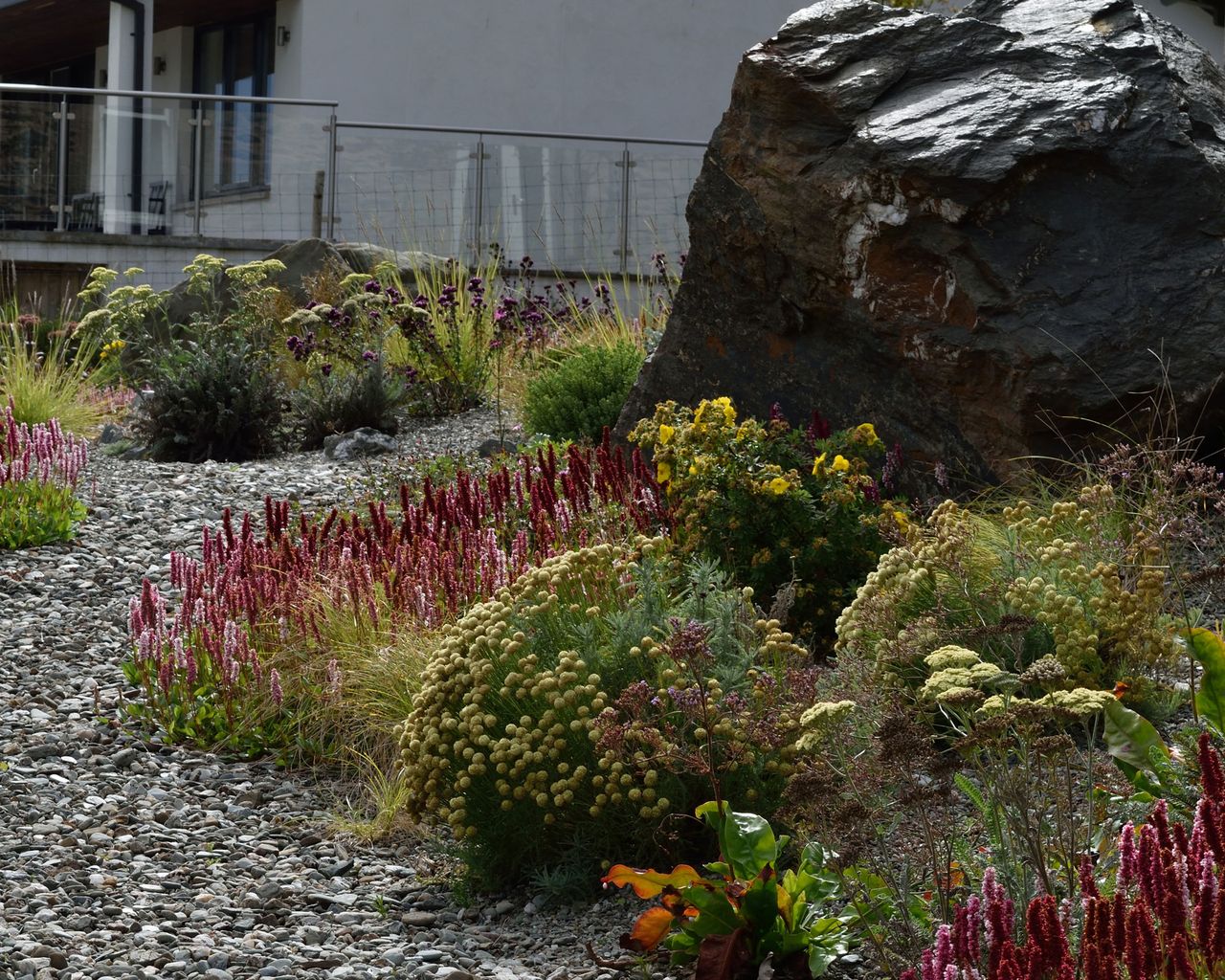 Large boulders can be used to contrast with soft sweeps of planting for naturalistic landscaping ideas with rocks, a look that was an element of Victorian garden design. Start by observing how rocks look in nature, such as their orientation, grouping and how they seem to come out of the ground. Bed your rocks into the soil and group smaller ones with larger ones in natural clusters. 
'Large boulders and smaller rocks were "planted" into this sloped garden to add height and interest,' explains garden designer Rachel Bailey. She also suggests working with local rocks to connect the house with the yard and surrounding landscape. 'Include a variety of sizes including some big rocks for impact. This is especially important in small gardens where the inclination is to shy away from large rocks in favour of small ones. Larger rocks will add more drama and impact, creating a cleaner, less fussy design.'
Use rocks as a foil for your planting and include informal planting pockets for alpine plants, which will become established and merge into one other, softening edges and creating an environment that will develop naturally over time. A meandering gravel path completes the picture.
9. Include rocks in water feature designs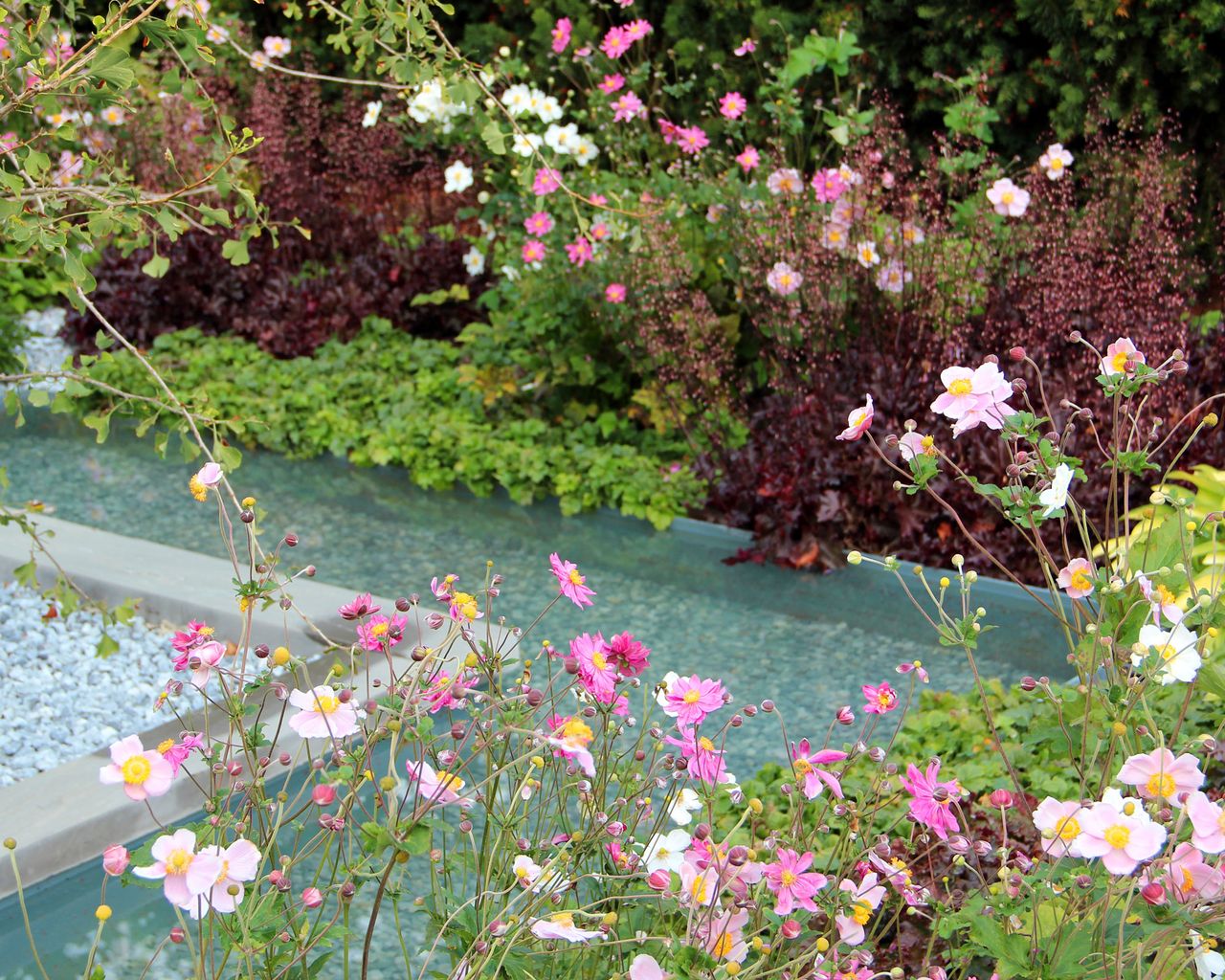 Water feature ideas are a must if you're using rocks as design-wise the two go hand in hand. Rocks can be incorporated into all water features whether they are large pools and ponds or small freestanding bowls, rills, waterfalls or fountains.
A small pool with water rippling over smooth pebbles or stones is instantly calming and can be squeezed into even the smallest of gardens. Large rocks can be used to mirror the movement of flowing water and to create shimmering reflections. Rocks and pebbles are also good as a way of adding a distinctive edging to water features.
10. Combine planting and rocks in modern spaces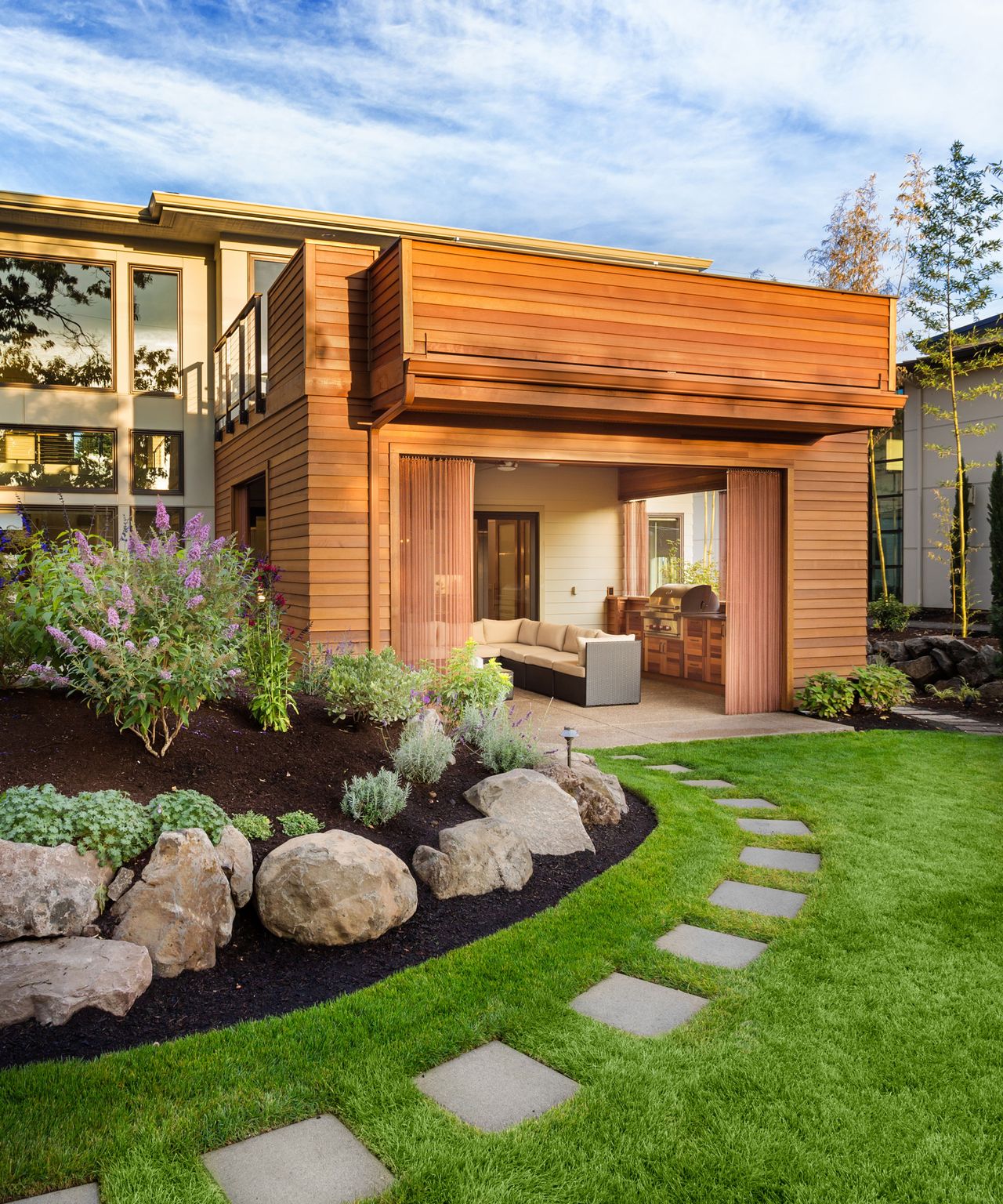 Asymmetry is key to modern garden design, which often relies on pared-back spaces, quality materials and clever styling. The materials palette tends to be minimal, such as smooth rendered concrete for paving to create clean surfaces or large rocks used for dramatic effect. 
Planting needs to reflect this aesthetic, too. In modern garden design it tends to be restricted, featuring only a tree or two, smooth sections of lawn and a few shrubs as punctuation marks.
Traditionally rock landscaping included plant varieties that are alpine in origin, as the conditions simulate their native habitat. They tend to be smaller plants to complement the scale of the rocks. 
Perennials, ornamental grasses and small shrubs can be used to add vertical height, while creeping ground cover plants will soften the edges. Evergreen dwarf and creeping conifers are good for adding compact year-round interest. If your garden is shady, choose mosses, ferns and hostas instead.
How do I landscape with rocks?
A good place to start is by working out how you want your rock landscaping project to look. Begin with a few well-placed larger rocks as primary focal points to anchor the space and get these into position first. Remember that you will need to factor in cranes and diggers for moving larger rocks.
Allow space between the rocks for plants to grow. Smaller complementary stones or gravel placed around larger rocks will help to pull together the design. Vary the color and texture of materials to introduce contrast.
To create visual interest, aim to vary the size and shape of the materials you choose, too. Go for a mix of boulder rocks, stones, pebbles and gravel to add interest with different textures and shapes. 
Before splashing out on materials do your research by looking for specialty rock suppliers to see what's available. You can also look on Facebook Marketplace, eBay, Craigslist and Freecycle, which often have listings from people looking to get rid of surplus materials left over after landscaping projects are completed.
What kind of rock is good for landscaping?
When it comes to smoothness, river rock is the best product to use. Known for its rounded texture, it's available in many sizes and colors. It's a great way of making a pretty border, path, lining a pond or other water feature, and edging projects.
Limestone can be used for designs needing larger rocks such as rockeries, filling gabions and other landscaping projects. It's a creamy buff colour that gets darker when wet and comes in large irregular, angular pieces.
If you want a soft, rustic look for your backyard, decomposed granite is one of the best landscape rock types out there, with a pretty reddish-tan color. Use it for landscaping around trees as well as ground cover as it's an affordable option.
If you want a good weed barrier or to fill in the gaps between pavers choose pea gravel, which comes in a good range of colors and is an affordable option.
Lava rocks are actual volcanic stones and have bold and vibrant colors to give a beautiful accent when landscaping with rocks. They are light, too, which means it's easier to transport them and spread them around.