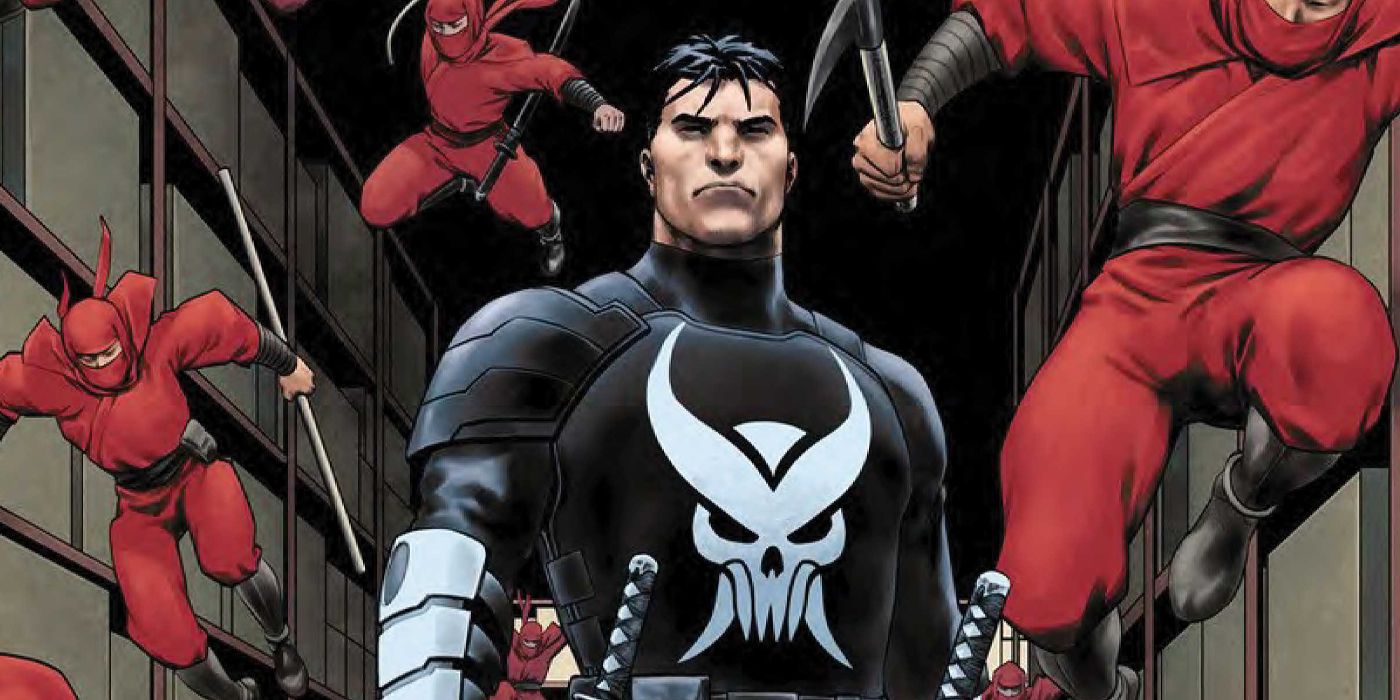 Marvel Debuts New Art Featuring Punisher's Revamped Skull and Status Quo
The Punisher will be getting a new logo, role and ongoing series in March, with new artwork spotlighting his control over Marvel Comics' the Hand.
New artwork showcases Marvel Comics' new role for the Punisher.
In December 2021, Marvel announced that Frank Castle would be getting a new ongoing series written by Jason Aaron and drawn by Paul Azaceta and Jesus Saiz, thrusting him into a different role as the leader of the Hand. What drew many eyes to the news though was the fact that the Punisher's skull logo — now seen as controversial to some — would be altered for the series. While the art pages show off this new logo, Castle's classic icon and look is still featured as well.
RELATED: Punisher Co-Creator Understands Why Military Personnel Embrace the Skull Logo
Some of these art pages, like Castle in a city safehouse and his greeting by the Hand, have been seen before when Punisher #1 was first announced. Now, readers get a glimpse at the Punisher's initial standoff with the Hand, someone receiving a brutal beatdown and Castle leading the Hand's ninjas in his new attire. This is not the first time that a Marvel character has been put in charge of the ninja clan, nor is it the first time that the Punisher has been thrust into a role never seen for him before.
One of the biggest storylines to see the Hand under new management was Marvel's Shadowland event, which saw Daredevil corrupted by the Hand's Beast as he fought his friends and allies. However, others like Elektra Natchios and Wilson Fisk (Kingpin) have also led the group in the past. The Punisher is the latest leader, which also adds on to his own wild history of being a Frankenstein-like monster, demon hunter, War Machine and more.
RELATED: Punisher Co-Creator Theorizes Why Marvel Won't Crack Down on Illegal Punisher Merch
A big mystery with this title is how long Castle's new role and icon will stick around. Though Punisher co-creator Gerry Conway recently spoke about how the original logo could lose its negative connotations, the recognizable skull has been adopted by far-right extremist groups and law enforcement over the years, something Conway has expressed a distaste for in the past by calling the use a "disgrace." Whether the original logo will return in or after this series remains to be seen.
The art preview, covers and solicitation for Punisher #1 can be found below.
PUNISHER #1
JASON AARON (W) • JESÚS SAIZ & PAUL AZACETA (A) • Cover by JESÚS SAIZ
Variant Cover by JEN BARTEL
Variant Cover by GORAN PARLOV
Variant Cover by JOHN ROMITA JR.
Variant Cover by ERNANDA SOUZA
Variant Cover by BENJAMIN SU
TIMELESS VARIANT COVER BY ALEX ROSS
TIMELESS VIRGIN SKETCH VARIANT COVER BY ALEX ROSS
Spoiler Variant Cover ALSO AVAILABLE
WILL THE PUNISHER'S WAR END?
Born of tragedy. Devoted to war. Unstoppable in his rage. As the Punisher, Frank Castle has become the most accomplished killer the world has ever seen. Now it's time for him to face his true destiny. What shocking secret from Frank's past will convince him to take the reins of the Marvel Universe's most notorious clan of assassins? And once Frank becomes the warlord of the deadly ninjas of the Hand, will it also mean an end for the Punisher? Or a whole new bloody beginning? Join the superstar team of writer Jason Aaron and artists Jesús Saiz and Paul Azaceta for an epic exploration of the dark and violent past and inevitable future of one of Marvel's most iconic characters.
48 PGS./Parental Advisory …$5.99
Punisher #1 is written by Aaron with interior art by both Azaceta and Saiz, with Saiz also creating the main cover. Colors for the issue were done by Dave Stewart, with variants covers contributed to by Alex Ross, John Romita Jr., Goran Parlov, Jen Bartel and Benjamin Su. The issue goes on sale March 9 from Marvel Comics.
KEEP READING: Punisher Co-Creator Gerry Conway Refuses to Watch the Character's Films
Source: Marvel
DC's Black Batman's NYC Arrival Hyped With Massive, Real-World Posters
About The Author