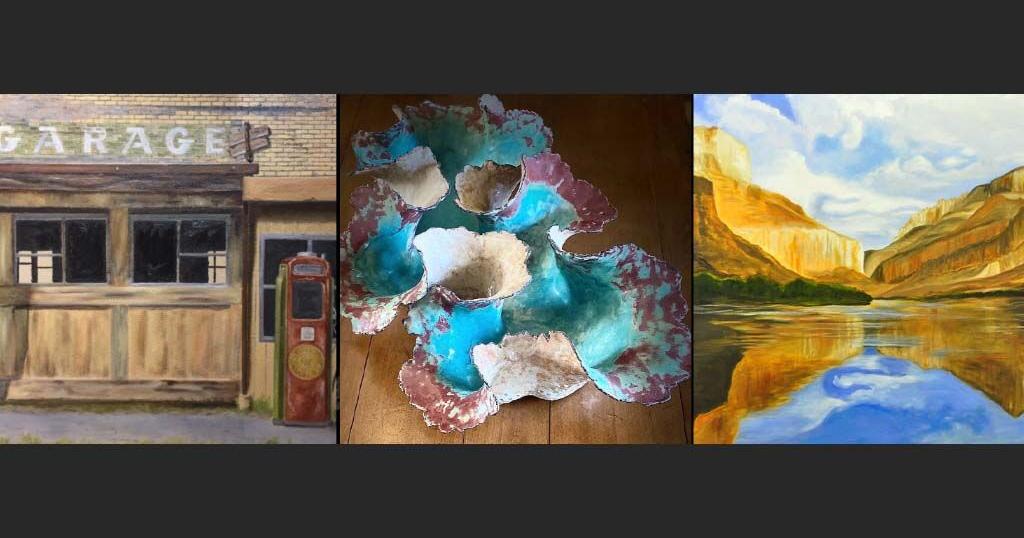 New art at The Finer Arts Gallery | Online Features
With the new calendar year will come a new seem for The Finer Arts Gallery in Cave Creek, as the artist-owned gallery receives a main refresh of artwork, together with from Chandler's Sandy Ashbaugh, a ceramicist. Ashbaugh has hand-carved sake sets and vessels at the gallery.
In addition, a few artists are being highlighted: fused glass artist Pat Isaacson Arizona landscape painter Linda Lindus and custom made jewellery maker Jan Stiles.
They be part of a lot more than 30 other artists in a extensive variety of mediums, which includes ceramics, bronze, gourds, pictures, metal sculpture, wooden live edge, fiber sculpture, graphite, acrylic, pastel and oil.
"We've been so delighted with how the community has embraced our new gallery," claimed Linda Lindus, a  professionals. "It is such a joy when a patron purchases a piece of artwork they completely enjoy."
The gallery holds a monthly meet up with and greet on the third Friday of the month, with the up coming scheduled from 4 to 6 p.m. Friday, March 18, with a few new showcased artists.
Frequent gallery hrs are from 10 a.m. to 5 p.m. Tuesday to Sunday and by appointment. 
The Finer Arts Gallery is on the picturesque road winding by Cave Creek and Carefree, in the rustic building regarded as the Cave Creek Station. It is shaded by a grand, 150-year-old Tamarisk tree, fondly remembered by citizens as the "Treehouse." Situated at 6137 E. Cave Creek Street, Cave Creek, the gallery is in between Huge Earl's and the Cave Creek Olive Oil Business. Parking is in the rear of the constructing adjacent to the again entrance.
For details, pay a visit to thefinerartsgallery.com or simply call 480-488-2923.
These artists are showing operate at The Finer Arts Gallery Sandy Ashbaugh, ceramics Karen Chatfield-Barnhart, sculpture Beverly Carlson-Bradshaw, pastel Beth Benowich, jewellery Nancy Breiman, acrylic Casey Cheuvront, oil Sarah Curley, ink/transfer Dennis Despois, acrylic Robert Elenbaas, images Cynthia Eral, oil/acrylic Karen Close friend, gourds Joanne Gallery, acrylic Paulette Galop, ceramic Julie Gilbert, jewelry Bill Goren, bronze/ceramic Jan Griggs, acrylic Rick Griggs, wood sculpture Sandra Hamilton, pictures, digital Pat Isaacson, glass Karen Johnson, beaded wall artwork Merrily Kulmer, acrylic Linda Lindus, acrylic Dick Mueller, drawing Kathy Nelson, glass Patrick O'Grady, jewellery Linda Paul-Sontag, acrylic Kirby Plessas, digital Robin Ray, ceramic Marlene Sabatina, jewelry Jack Schilder, graphite drawing Jan Stiles, jewelry Shannon Taggert, mixed media Carol Tenwalde, jewelry and Ann Von Pentz, photography.