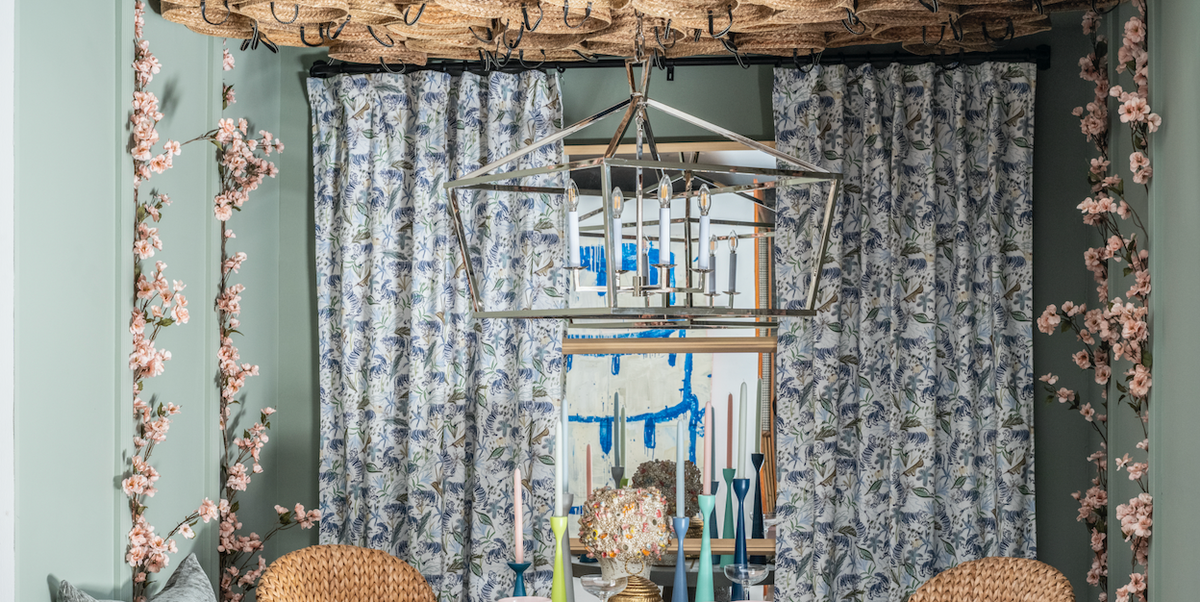 Basket Ceilings Are Making a Comeback
When Eneia White unveiled her space at the 2021 Rooms with a View design showcase this fall, visitors were most captivated by one unusual detail: The ceiling, which White had covered completely with woven baskets, hung upside down to create a cozy, textural canopy that made the perfect topper to her dining room.
"We love finding ways to bring repetition of simple or expected objects into our designs, so we gathered as many baskets as we could find to make this space feel cozy," explains white of the design. "Attaching them to the ceiling was our curve-ball moment in an otherwise soft and charming space."
Recent shoppers in Manhattan's Soho might look up to see a similar element in one store: Tory Burch took a similar approach in her new flagship store on Mercer Street. Like White's dining room, the space features plenty of wicker and rattan (including on custom mannequins), and the ceiling treatment continues these organic textures up above.
Burch was inspired in her use by baskets her mother hung from the ceiling in her childhood home in Valley Forge, Pennsylvania. In the store, though, she adapted the design element with flatter, rattan discs, which give a similarly textural feel with a more streamlined ceiling. And why not? Basket-like woven pendants and shades have long been popular in home design—leave out the lights and you still get all the texture and visual interest.
Though White and Burch adapted the look in more modern ways, there's design history behind decorating with more traditional baskets, too. When it comes to baskets as decor, we'd be remiss not to mention Bunny Mellon: The late horticulturalist and philanthropist so loved baskets—they were often stacked in the hallways, mudrooms, and flower rooms of her various homes—that she built an entire structure dedicated to them on the grounds of Oak Spring, her farm in Upperville, Virginia.
For Mellon, the fascination began at a young age, when she was inspired by a basket factory in her grandfather's hometown, write Linda Jane Holden, Bryan Huffman, and Thomas Lloyd in Bunny Mellon Style, a new book on Mellon's homes, art, fashion, and jewelry. Enchanted by the New Hampshire factory—which, surrounded by a stream, necessitated walking across wood planks to enter—Mellon build a replica at Oak Spring, complete with an entrance by bridge over a trickling pool.
"Inside the Basket House, she placed a Georges Braque painting of a bird on one wall, echoing the birds at the New Hampshire farm, and she hung a gallery of baskets from the rafters," write the authors of Style. The effect is a disarmingly simple, textural backdrop that exudes warm charm.
Mellon hasn't been the only style icon to build a dedicated structure for her baskets, either: A few decades after the one at Oak Spring, Martha Stewart created a basket house at her home in Bedford, New York. Stewart's love of baskets as ceiling decor dates back even further than this, too—just look at the kitchen in her onetime Connecticut farmhouse, Turkey Hill, where an assortment of baskets hung above the kitchen island alongside Stewart's collection of copper pots (these particular baskets made a textural frame around Stewart on the opening spread of her 1982 book, Entertaining).
It probably goes without saying that if modern designers and reigning tastemakers are all in agreement, this is a look worth keeping around. Whether you add a few woven accents to your rafters, top shelves, or above your cabinets, or go full force and take to your ceiling with a staple gun, there are no shortage of options of baskets in every style. See a few of our favorites below (and scope out your local antique store, too; there's nothing as charming as a vintage basket–or ten).


Follow House Beautiful on Instagram.
This content is created and maintained by a third party, and imported onto this page to help users provide their email addresses. You may be able to find more information about this and similar content at piano.io