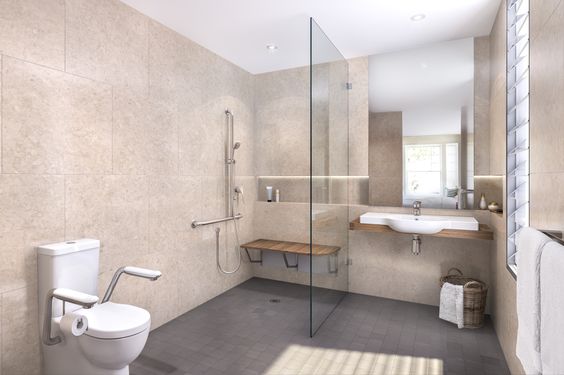 Bathroom Remodelling- 4 Contemporary Designs to Reconfigure Your Space
Are you seeking methods to update your old bathroom to make it more modern? Do you have no idea where to start looking for contemporary bathroom ideas? Don't worry, this article has you covered!
It might be challenging to come up with bathroom design ideas because there is so much to explore, from metals to colour schemes, lighting installations to furniture forms.
It's only fair that you'll want a design that includes everything you could possibly want, right down to the smallest detail. The most luxurious bathroom designs with the 'wow' quotient of appearance include a feature wall, glass doors, and a stunning charming windowsill filled with foliage.
This post walks you through everything you require to find the optimal contemporary layout for your ensuite, from mid-century chic to the most Instagram- appropriate futuristic bathroom.
1.    Light Fittings
Whether you're employing modern bathroom designs or more classic layouts, lighting is an integral part of any effective bathroom decor. Incorporating lighting fixtures into a contemporary bathroom is a great idea.
Spotlights are a popular choice in several modern bathroom layouts because they allow you to direct light to specific focal spots while ensuring that your bathroom is uniformly lighted. Another pertinent contemporary idea to make your bathroom seem as magnificent as possible is to ensure your floor area is evenly illuminated.
You may even incorporate a spotlight into a wall alcove to offer a focused light illumination on a particular piece.
2.    Accessories
One of the most popular components of luxurious bathroom designs is to include as many accessories as you want!
While being cautious not to overcomplicate it, why not add a few trinkets here and there to keep the space looking fresh and minimal? Many interior design schemes include hefty fixtures like vanity cabinets or a focal wall, as well as the option of adding bathroom decor as needed.
Accessories are distinctive and may make a space shine out as your own, so this is a fantastic suggestion when evaluating design ideas. You can express your personality through your selection of features while maintaining the bathroom layout you desire.
3.    Making Use of Technology
Integrating technology into your layout is nearly a necessity in any bathroom design. This need not be anything extravagant or dramatic. It might just be some lovely lighting on your cosmetic unit. However, if you want your layout to have a modern flair, experts advocate some technology.
From a heated towel rail to underfloor heating, there are many options available. This type of effortless technology transforms your bathroom into more than just a sink, shower, and toilet. It unifies your suite in terms of beauty and usefulness, making it feel like an ultra-modern space in your house.
4.    Tiles
Tiles are a fantastic way of making your space look more sophisticated, whether you want spotless white or mid-century elegance. You can use tiles on the wall or the floor to create a high-end look with rows upon rows of clean tiling.
The colour and substance of your tiles are both crucial factors to consider. Many people favour marble tiles because of their luxurious appearance, while others prefer stone tiles or ceramics.
Wrapping Up
Everyone loves a picture-perfect bathroom. A contemporary layout ensures that your bathroom looks spacious, chic, and functional, which is a bonus if you want to sell your home.
With the tips shared above, you'll be on your way to designing your bathroom in no time. Here's hoping that this post has provided you with a decent concept of how to make your bathrooms sophisticated and contemporary, with all the accents of modernity.