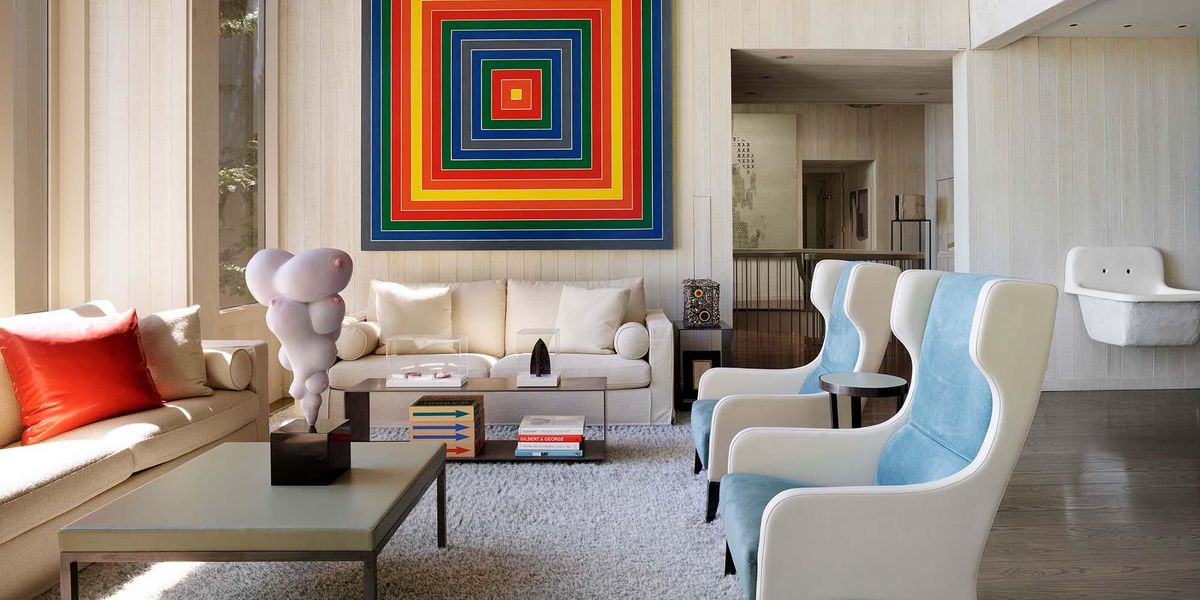 Inside the Home of Art Collector Chara Schreyer
Renowned art collector Chara Schreyer has five distinct homes scattered across the point out of California. Their function? To property the around 650 functions of artwork she has amassed all over her 50 many years in the industry—why buy art if it's likely into storage? As she accumulates both equally properties and artwork, every single house and corresponding installation, as she phone calls them, will take on a persona of types. Her Belvedere property pays homage to the art and structure of the '60s even though her home at the San Francisco Four Seasons strikes extra of a minimalist chord. As the Tiburon assets was the initially of the ton (procured in 1976), it serves as a microcosm of her overall collection. Boasting sculpture, images, painting, video, "it's sort of an amalgamation of the entire history of [contemporary] artwork."
Due to the fact Schreyer's target skews greatly toward the artwork, interior designer Gary Sutton techniques in to assist to frame her selection with style and design. The two have labored in tandem for 40 years ("longer than I've been with any husband"), a collaboration that led to the book Art Property: The Collaboration of Chara Schreyer and Gary Hutton.
"The home has so much visible integrity that it seriously stands the take a look at of time," she points out. "It has not needed several updates." Within just the 9,000-sq.-foot household that sits just north of San Francisco, the pickled-wooden and straightforward home furnishings serves as a backdrop to the illustrious artwork assortment that features Andy Warhol, Marcel Duchamp, Louise Bourgeois, and Robert Gober, between a lot of some others. It is the minimalism of a gallery sans the sterility variable. "My property is pretty extremely at ease," the Berkeley-educated artwork historian points out of a home environment that assists soften the edge of the masterpieces in just. "I want individuals to come to feel cozy with contemporary art."
Schreyer, who resides on the boards of the San Francisco Museum of Artwork, The Museum of Up to date Artwork Los Angeles, and the Hammer Museum, normally personifies her art as talking, no matter whether which is to a viewer, a prior era, or yet another piece in her collection. This dialogue is fluid and even normally takes the variety of her have own fantasy: the opening scene of the 1952 movie rendition of Moulin Rouge exactly where artist Henri de Toulouse-Lautrec envisions his masterpiece come to everyday living. Following a long time of evolution, the selection has achieved a position where it sings (read through about it in another fittingly named tome, Generating Unusual: The Chara Schreyer Assortment).
window.REBELMOUSE_Active_Tasks_QUEUE.push(perform(){
var makeMonitor = (getStatus, cb, delay) => 100 var keep track of = () => var time = +new Day() var position = getStatus() if (status) return cb(position) else if (!stopMonitor && +new Date() - time < 30 * 60 * 1000) monitorId = setTimeout(monitor, delay); else cb(false); , cancel = () => stopMonitor = legitimate clearInterval(monitorId)
permit monitorId, stopMonitor = wrong return start: watch, cancel: cancel,
var leftArrowCarrousel = makeMonitor( functionality () return doc.querySelector( ".store-sidebar.store-posts .posts-wrapper .slick-subsequent" ) , functionality (res) res.addEventListener("click on", () => gtag("function", "Still left Arrow Click on", event_classification: "Purchasing Module", party_label: "Prior products at carrousel", ) )
)
leftArrowCarrousel.start off()
var rightArrowCarrousel = makeMonitor( purpose () return document.querySelector( ".shop-sidebar.store-posts .posts-wrapper .slick-prev" ) , perform (res) res.addEventListener("click", () => gtag("function", "Ideal Arrow Click", celebration_classification: "Browsing Module", event_label: "Next product or service at carrousel", ) )
)
rightArrowCarrousel.start out()
var buyButton = makeMonitor( perform () return doc.querySelectorAll( ".store-sidebar.shop-posts .posts-wrapper .widget__item-obtain-link-btn" ) , operate (res) { for (enable button of res) button.addEventListener("click", () => gtag("function", "Get button click on", occasion_group: "Purchasing Module", function_label: `$button["href"]`, ) )
} )
buyButton.start()
var imageShopp = makeMonitor( operate () return doc.querySelectorAll( ".store-sidebar.shop-posts .posts-wrapper .widget__head a" ) , purpose (res) { for (enable picture of res) { graphic.addEventListener("click on", () => gtag("function", "Picture click", party_class: "Procuring Module", event_label: `$graphic["href"]`, ) ) } } )
imageShopp.start()
var productTitle = makeMonitor( functionality () return document.querySelectorAll( ".shop-sidebar.store-posts .posts-wrapper .widget__headline .widget__headline-text" ) , functionality (res) { for (allow item of res) { solution.addEventListener("simply click", () => gtag("event", "Merchandise title click on", occasion_category: "Shopping Module", function_label: `$solution["href"]`, ) ) } } )
productTitle.commence()
})
window.REBELMOUSE_Energetic_Responsibilities_QUEUE.drive(perform()
window.REBELMOUSE_STDLIB.loadExternalScript("https://s.skimresources.com/js/150311X1615657.skimlinks.js", functionality()
)
)
window.REBELMOUSE_Active_Tasks_QUEUE.thrust(purpose()
!purpose(f,b,e,v,n,t,s)if(f.fbq)returnn=f.fbq=perform()n.callMethod?n.callMethod.apply(n,arguments):n.queue.push(arguments)if(!f._fbq)f._fbq=nn.press=nn.loaded=!0n.edition='2.0'n.queue=[]t=b.createElement(e)t.async=!0t.src=vs=b.getElementsByTagName(e)[0]s.parentNode.insertBefore(t,s)(window, document,'script','https://link.facebook.internet/en_US/fbevents.js')fbq('init', '1248680838922690')fbq('track', 'PageView')
)
window.REBELMOUSE_Energetic_Responsibilities_QUEUE.press(purpose()
window.REBELMOUSE_STDLIB.onElementInViewport( threshold: 400, selector: "online video", oneTime: genuine, onIntersect: purpose(entry) var component = entry.focus on element.setAttribute("enable","autoplay") element.loop = legitimate ingredient.muted = real ingredient.autoplay = correct element.setAttribute("playsinline","genuine") //aspect.controls = bogus aspect.participate in()
)
)