sanjay puri architects shapes university in india as a staggered landscape of green terraces
new university in india presents distinctive volumetry
within a 32-acre campus, sanjay puri architects has completed the design for the main administration offices of the prestige university in indore, india.  the newly unveiled building takes shape as a staggered arrangement of green terraces, gradually stepping up to reveal the 20-meter height of the structure. the distinctive volume houses a variety of functions including seminar halls, a library, and a cafeteria, while the entire terrace of the fourth level is accessible to the students and faculty, transferring into an open auditorium amidst the landscape.
all images courtesy of sanjay puri architects
naturally lit and sufficiently ventilated 
the prestige university administration building interweaves multiple functional spaces, with naturally lit landscaped courtyards allowing indirect light to infuse the internal volumes at each level. sanjay pure architects (find more here) drew inspiration from traditional indian architecture to create an energy-efficient sustainable building with minimal dependence on artificial lighting and air conditioning. varied sectional volumes punctuated by greenery create different experiences in each part of the building. meanwhile, a continuous diagonal indoor street, in addition to the numerous open courts, facilitates natural ventilation within the internal spaces.
the east, west, and southern sides of the structure are enveloped with a ventilated brick screen to mitigate heat gain in response to the climate. the prestige university is contextual to the climate of its location, creating an energy-efficient building that in addition to housing numerous activities, also becomes a large open public space with an accessible ground floor and landscaped roof. the building is a series of interactive spaces of different scales fostering engagement at various levels amongst the users as well as integrating functional and open landscaped areas intrinsically.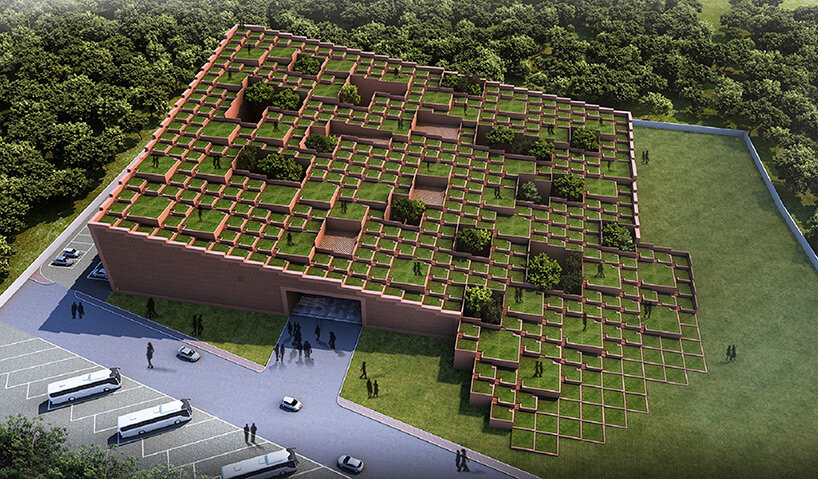 the common facilities like food court, an auditorium and the administrative offices are located on the ground floor for easy access. the various library components are located on the first floor connected by a bridge over the diagonal indoor street cutting across the building. the common classrooms occupy the second floor deriving light and ventilation from the various sectional volumes and open courts. these open courts act as the spill over area for recreational activities. the third floor houses the tiered classrooms. the fourth floor houses all the administrative and faculty related facilities.