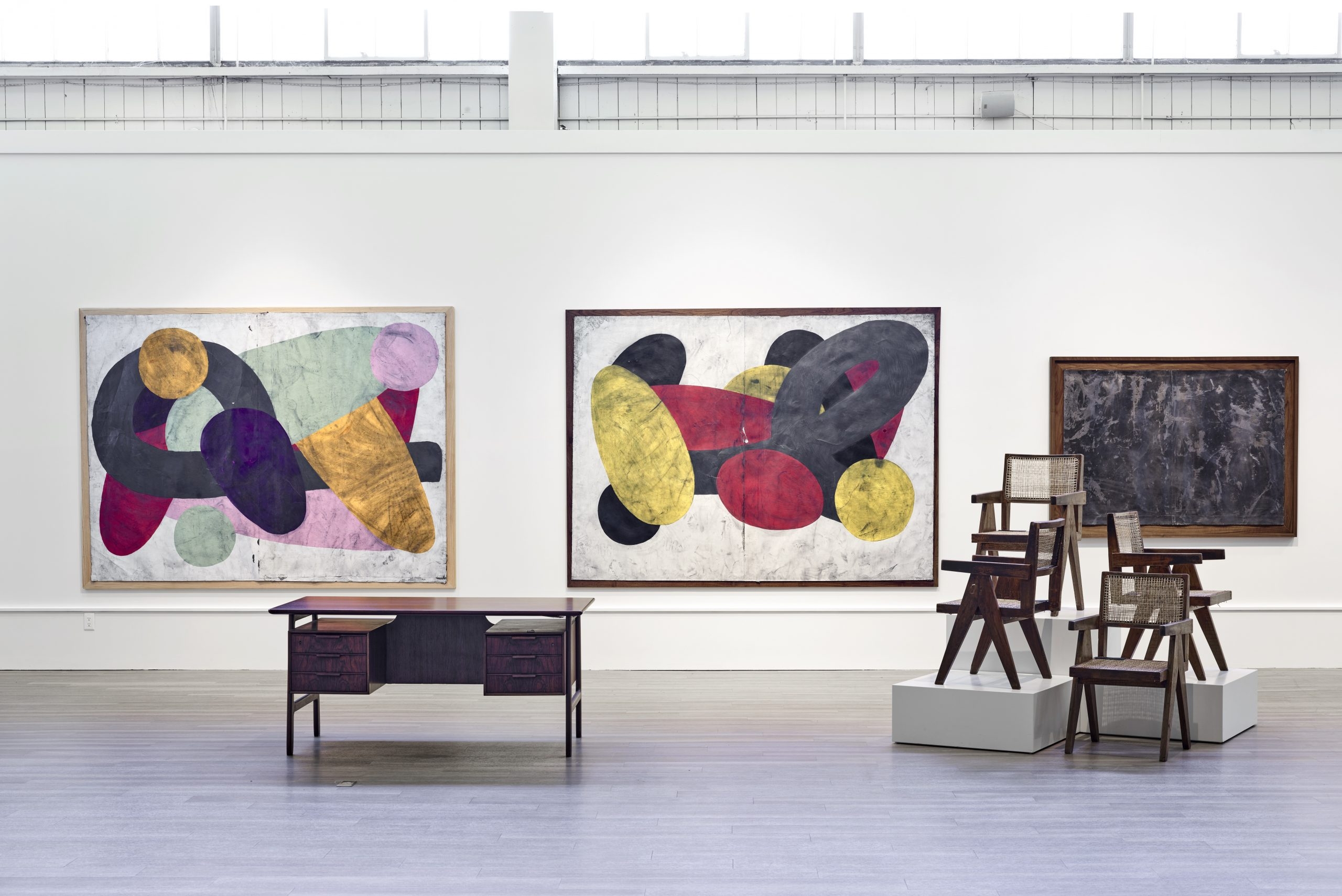 The fine art of home decor
Reviews and recommendations are unbiased and products are independently selected. Postmedia may earn an affiliate commission from purchases made through links on this page.
Article content
A department store serves as an unusual setting for Toronto art lovers
Article content
Like most brothers, Jamie and Andrew Metrick love a good family story. Especially the ones that tie the ancestors who started luxury home décor business Elte in 1919 to the rise of Toronto's design and cultural scene.
Article content
As current co-presidents of the company, they brought some of those connections to the first in a series of fine-art exhibits to be held at the Ronald Avenue flagship store.
Called Abstracts at Home, it references a 1953 show of avant-garde art in the Simpsons department store in downtown Toronto. One of many familial echoes: sculptor Harold Town — who would join a group of painters who emerged from that show — went on to become one of ten Canadian artists Elte commissioned in the '70s to create limited-edition textile panels.
Article content
The department store setting was unusual for Toronto art lovers. who were accustomed to going to "white-cube" galleries to look at "serious" art. Organizers wanted to inspire visitors to include contemporary art among their home décor and furniture, and to create a comfortable, lower-key environment in which to buy it.
Painter William Ronald (formerly a Simpsons window dresser) convinced the retailer to exhibit his own work, along with five other contemporary artists. Despite moderate sales, the show was a catalyst: a month later, Ronald invited a few others, including Harold Town, to meet the group. From that emerged a collective of abstract artists called Painters Eleven that would have a profound impact on the Canadian art scene.
Article content
Thoughtfully curated by Robert Wainstein of David Moos Art Advisory, the new show brought together five internationally-recognized abstract artists who, like the original group, share an emphasis on process, innovation, and surface.
Similarly, they work across disciplines and materials. Art was shown alongside exquisite furniture from Elte's collection that connect to the themes.
Recruiting high-calibre artists meant "convincing them the work would be treated with respect and that we were committed to a serious art program —we wanted to work with artists interested in conversations between art and a larger aesthetic world of objects" says Wainstein.
The youngest was Chicago-based Tony Lewis, whose practice includes using graphite on paper to create large works. Wainstein describes the process. "It's very active — he works on the floor, and he is wearing a mask and boots because there is graphite everywhere. You see his footprints, you very much see him in the work." he explains.
Article content
Lewis' theme is language – some of the elliptical shapes and lines are adopted from Gregg shorthand which is actually used by stenographers in courtroom. As a Black artist, suggests Wainstein, Lewis also reflects on the power wrapped into language.
The show's elder statesman was 88-year-old Frank Bowling, who has been shown at Tate Britain, and exhibited at the AGO. Born in Bartica, Guyana, he moved to London in the '50s to be a figurative painter before deciding he was actually an abstract painter. He moved to New York in the '60s, where abstraction was the dominant form, and now inhabits the upper echelons of abstract painting, says Wainstein.
"He dedicated his life to exploring process and cascading colour and different material and techniques," says Wainstein. "His innovations (included) using different mediums gel resin and acrylic paint, which were new forms of paint and materials at the time." For more about the art and furniture in this show, go to www.aroundthehouse.ca
Article content
Because Elte is so focused on interior designers and architects, they wondered how a retail-oriented art program would be received. "But we were surprised by how excited they have been by this — a number of sales have been through the interior design community," says Andrew.
Another exhibit will be held in spring of 2023. As the show closed in mid-December, the co-owners reflected on the experience. "For Andrew and me, it was partly about learning the business end," says Jamie. "But it's also a lot more than that—it's continuing a legacy of bringing art and design into people's homes."
Vicky Sanderson is the editor of Around the House, www. aroundthehouse. ca. Check her out on [email protected] athwithvicky, Twitter ATHwithVicky and or Facebook.com/ATHVicky.ca.