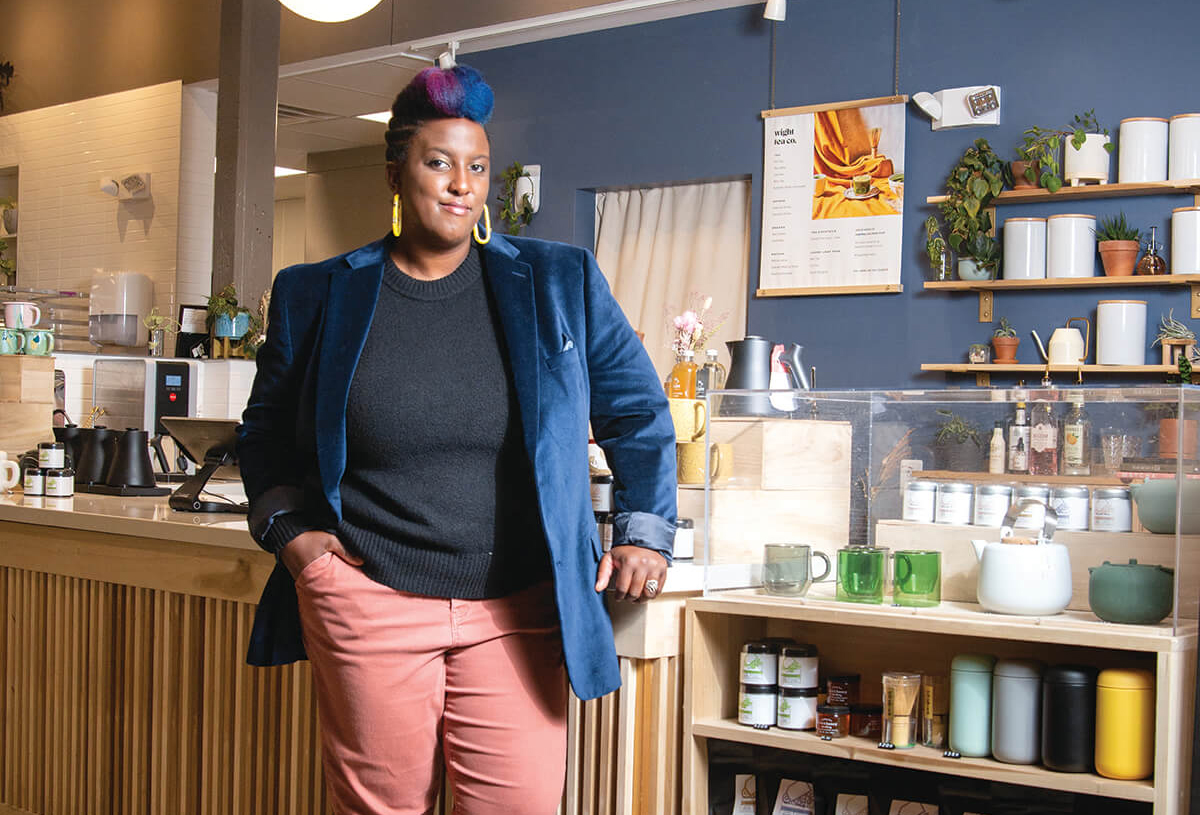 Tiffanni Reidy Uses Design to Transform Restaurants and Residences Into Welcoming Spaces
Reidy was able to work with Plauson's builder on design challenges, such as where the kitchen sink should be placed, moving the master bedroom door, and how to set up the bathroom in the diminutive home, which was completely gutted.
"She navigates difficult times with a lovely, calm focus and gracious presence," Plauson says. "What I appreciate about her is that she is always the most creative person in the room but also the most focused…and is the first to solve seemingly intractable problems."
When Reidy works with clients, she meets with them to find out their ideas and intentions and then comes up with conceptual boards and 3D models to guide the project. "A lot of my job is education," she says. "There should be reasons we're making design decisions, not just that it looks pretty. It should have meaning behind it."
Her background in computer graphics and photography often comes into play in her work. She encourages her commercial clients to determine what their branding is, so they can decide on what kind of design they want.
"The more they know about branding the more I can bring that to life in their space," says Reidy, who has experience with logo and website design. She credits photography with giving her insight into the composition of a space. "You want to capture it from many angles, especially when you're in a restaurant space. You don't want people to think it looked great when they walked in, but once they sat down, it's [just] okay."
Reidy is currently working with Chelsea Gregoire, the managing partner at the yet-to-open Church bar in Old Goucher. Reidy describes the multi-room space as a "long, older home with front patios, decks, a vestibule, bar, kitchen, and a main area" with each sector having its own feeling and mood. "Chelsea is my ideal client," Reidy says. "Chelsea knows what their business is and what the brand is."
Gregoire didn't want to discuss specific details about the layout and decor, but says that Reidy is helping with finishes, furniture, and designing a space that "fits our concept and the spirit we want to create for the community," a place where people will gather and feel welcome and comfortable.
"I'm really thrilled about Tiffanni being part of Church," Gregoire says. "At the end of the day, there's no one more talented for this project. She goes above and beyond what is expected."
Reidy knew from the time she was a child that she was interested in art. "That was the thing that really made me happy: drawing and painting," she says. While she says her two younger sisters are also artistic—one is a musician; the other dabbled in visual arts—she notes there is no one in her family who was an artist role model.
"I think it's more an influence of being given the space to create versus saying, 'I want to draw like this person or paint like this person' as a child," she says.
Reidy is an avid farmers market-goer, supporting the 32nd Street Farmers Market in Waverly, the Baltimore Farmers Market & Bazaar, and the Hamilton Farmers Market near her home. "My neighborhood is like a mini-Baltimore," she says, referring to the many restaurants and businesses located in Lauraville-Hamilton.
Favorite spots include Red Canoe Cafe and Silver Queen Cafe for dining out, Walther Gardens for plants and crafty things, and Cloudy Donut Co. for vegan pastries.
When she's not working, she maintains a large organic garden, where she grows eggplants, peppers, squash, cucumbers, beans, blueberries, and flowers. "We eat a lot of what we grow and give away produce," she says. "I live in my garden all year." This summer, she made a "tremendous amount of pickles," she says.
Reidy follows her own design mantra at her 1920s home, keeping the public spaces minimal, though she admits her office is cluttered with work-related and other paraphernalia, from boxes of tile samples and paintswatch books to gardening seeds and props like glassware and gold flatware. "There is always chaos in the room," she admits.
She prefers "simple colors" such as green, gray, black, blue, and purple for her house. "Paint is easy to change," she says. She doesn't use a lot of patterns except for accents like wallpapering and tiles and is a big fan of African mudcloth with its intricate designs.
"IT'S REALLY ABOUT MY APPRECIATION FOR CLEAN LINES. THERE'S NOT A
LOT OF FLUFF OR EMBELLISHMENT," SAYS REIDY.
A recent design project was particularly near and dear to her heart. Reidy designed a playroom for her daughter when she was 3, detailing the project in her blog, "The Tea," on her website. "She can go in there and make a mess," Reidy says. "If we need to have company over, we can shut the door."
The room's walls are painted a periwinkle with ample space for hanging Autumn's artwork, while a colorful rug in periwinkle, orange, and blue makes the space pop. There's a kid's kitchen set, art tables, and a pillow-filled seating area.
"We tried to upcycle things and not spend too much when we thought she really wasn't going to keep it for a long time," Reidy says. To fashion the creative play zone, Reidy shopped at Target, Ikea, HomeGoods, and Burlington. "It screams kid space but remains modern, and, thankfully, not full of primary colors," she says.
This is another one of Reidy's talents. The inveterate bargain-shopper and collector actually likes to find ways to save money. "I love thrifting," she says. And not just for her own clients. So far, her own keepsakes include about 25 teapots and several matching cups; more than 100 Pez dispensers, which she stores in a box; a growing batch of enamel pins; and all manner of tin cans with food-related themes. She's also known for her exuberant earrings.
"It's great," she says. "But sometimes it's a problem where to store them." As such, Reidy can relate to her clients' storage needs. "Through Tiffanni, I found Mathew Laflamme at Robbins Custom Builders, and together we created the kitchen of my dreams in an extremely tight space," says Hampden homeowner Plauson. "Perhaps my favorite discussions with her were about paint, wallpaper, and lighting choices. She has such a wonderful eye."
Reidy often develops close relationships with her customers. "I get to know my clients so well," she says. "I'm about building a sense of friendship."
One of those friends is Amanda Mack, who owns the bakery Crust by Mack with her husband, Jarrod, in Whitehall Market. "I met Tiffanni through Instagram, and we met at a coffee shop before I had a storefront," says Mack. "She was trying to figure out how to get into designing small businesses and focusing on the food and beverage industry."
When Mack decided to open a shop in the former mill, she turned to Reidy for advice. "I like her aesthetic and attention to detail," Mack says. "She knew the history of my mission in Baltimore. She was involved from start to finish."
The outcome is a gleaming sweets shop with a pristine, white quartz countertop and dusty-rose paint accents to showcase Mack's baked goods, which often sell out early in the day. "I'm over the moon with the result," Mack says. "Tiffanni helped personalize the store, so things would flow well in the 453-square-foot space. She helped make the space feel like you were going to an intimate setting instead of an 18,000-square-foot market."
Reidy's seemingly total takeover of Whitehall Mill continues. She was also involved in another Mack project there, a 3,000-square-foot event space called Layers the Loft, where she created architectural drawings and 3D models as well as recommending finishes and fixtures. She also worked with owner Jasmine Norton on the design of The Urban Burger Bar in the mill market. Outside the market, she was instrumental in designing the recently opened Vegan Juiceology, a storefront on Howard Street in the city's Market Center-Bromo Arts District.
Though quiet by nature, Reidy is a fierce advocate for her charges. "She is sweet and introverted, but when it comes to business, she is a monster," Mack says. "She makes sure her clients get what they need."