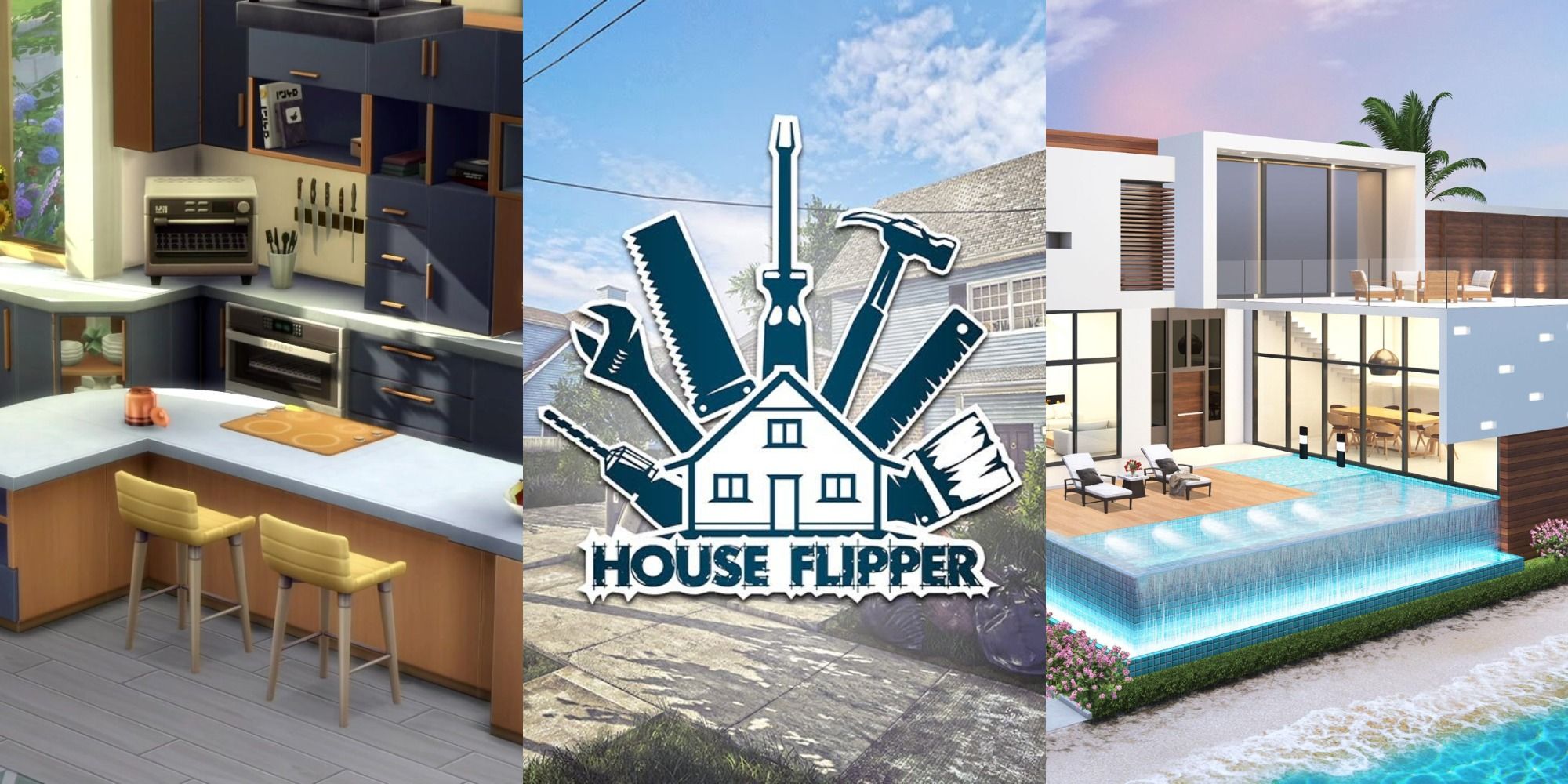 The 10 Best Games For People Who Love Interior Design
While some games take players on fantastical adventures or let them run wild with weapons taking out bad guys, that's not every gamer's play style. Instead, some like a more chilled experience, one that lets the player indulge their creative side.
RELATED: 10 Chill Video Games To Unwind And Relax With
With the release of Animal Crossing: New Horizon's DLC Happy Home Paradise bringing even more home-building options to players, interior design lovers have plenty of new ways to show off their creative flair in the game. But, there are plenty of other titles – available on a variety of platforms – for would-be interior stylists to get stuck into.
Home Design: Caribbean Life (Mobile)
Players looking for a more tropical interior design experience should be sure to check out Home Design: Caribbean Life, a cute and quirky mobile game set in the Caribbean. Part interior design game and part puzzle, players have to take part in challenging minigames to earn the in-game currency to choose pieces of furniture. Once these mini-challenges are completed, users can choose furniture to dec out the various interior (and garden!) spaces.
While the puzzle aspect may not be for everyone, Home Design: Caribbean Life may surprise players by how it hooks them in and keeps them coming back for more.
Redecor (Mobile)
Go up against fellow interior design aficionados in this innovative mobile game. Redecor presents players with a plain-white 3D design of a room and lets them go wild choosing the colors and materials to fill it. Once submitted, the designs are voted on by fellow players and the winning designs receive virtual in-game currency and extra materials to add to their bank. With a sleek design and new challenges every day, there's plenty to love about the game.
Free to download and play, Redecor also offers a paid season pass that gives players access to exclusive materials. Each month's pass is themed around a different interior design style, with past themes including industrial and art nouveau decor. The makers also post info on these design styles on their social media channels, giving interior design lovers the chance to brush up on their knowledge too.
The Tenants (PC)
In The Tenants players get the chance to become landlords, buying up old and ruined apartments, renovating them, finding suitable people to fill the properties, and taking charge of the day-to-day management. The game is currently still in Early Access, meaning players could encounter some bugs, but is due for a full release within the next year or so.
Interior design is only part of the gameplay here, and players can decide what kind of landlord they want to be – the kind that puts in the latest, highest spec appliances or the sort that just throws on a new lick of paint and calls it a day – but it's a thoroughly enjoyable experience nonetheless.
Home Design 3D (Mobile)
Home Design 3D wasn't created with casual gaming in mind. In fact, it's a home design software allowing people to plan renovations in their own homes. But that doesn't mean that it isn't great fun. In fact, once players get stuck in it can allow for huge amounts of imagination and creativity.
It's a flexible tool with a realistic art style, perfect for those who want to stay away from anything highly stylized or cutesy. Players can create a 3D render of their own home to carry out hypothetical re-designs or let imaginations run wild to create the ultimate house of their dreams.
Animal Crossing: New Horizons (Nintendo Switch)
Animal Crossing is a charming simulation game where players get to move to a quaint village populated by adorable anthropomorphic animals – but if that alone is not enough to get players hooked in, one of the biggest draws is the home building and customization aspect of the game.
RELATED: 10 Cool Things To Do In The Animal Crossing Happy Home Paradise DLC
In the latest iteration of the series, Animal Crossing: New Horizons for the Nintendo Switch, there are more ways to build than ever before thanks to the recent Happy Home Paradise DLC. In it, players can not only decorate their own home but find new clients to design for too. The style is definitely more cartoon-esque than realistic but there's plenty of inspiration online for players looking for interior design ideas and tips in AC:NH.
Kawaii Home Design (Mobile)
Players who love a more cutesy art style are sure to fall for the mobile game Kawaii Home Design. The premise of the game is simple – the player's family runs a home decor showroom on the brink of bankruptcy, and it's up to the player to keep it afloat by doing interior design jobs for clients.
Kawaii Home Design has the added selling point of having no minigames or puzzles to complete, and there are even public polls where users can vote on each other's designs.
Fallout 4 (PC / PS4 / Xbox)
This might not be the kind of game that players think of when they're after an "interior design game" but anyone who has played Fallout 4 will agree that designing and building the settlements is one of the most fun parts of the game.
Players get the opportunity to deck out their base with all manner of apocalyptic features, and there are more than a few places around the open world where a settlement can be built. There are even mods that add new locations to Fallout 4. When it comes to building, there are necessities that need fulfilling, like beds and a way to generate electricity, so it isn't all free-range – but there's plenty to do and plenty of challenges thrown in too.
Design Home: Real Home Decor (Mobile)
Billed as a fun and relaxing game, Design Home: Real Home Decor puts a spin on the genre by letting players use real-world furniture in their designs. There are hundreds of options to choose from, including wallpaper as well as furniture available to buy from real-world decor brands.
RELATED: 10 Best Mobile Games (According To Ranker)
There are daily design challenges to compete in and participating will allow players to unlock rewards. Players can also vote on other users' designs. It's a straightforward game with lots of options that will keep interior design enthusiasts enthralled for hours on end.
House Flipper (PC / PS4 / Xbox)
While buying, renovating, and selling houses may not be financially viable for everyone, House Flipper gives would-be flippers the opportunity to live out their dreams. Players start out by carrying out design and renovation tasks for clients, before earning enough to buy their first project.
It's a realistic simulation of house flipping – players have to knock down or build interior walls, apply plaster and paint, and lay flooring and tiles in each room. But, once all of the groundwork has been laid, it's time for the fun stuff: interior design. Gameplay is enhanced by the game's latest add-on, the Luxury DLC, in which players can buy even more modern furniture and complete challenges using on-trend mood boards. House Flipper also features pop culture references to shows and movies, which is fun addition for fans.
The Sims 4 (PC / Mac / PS4 / Xbox)
The longest-running installment of The Sims franchise, The Sims 4 is, of course, a life simulation game – but it's in the home building and interior design element that the title really shines. There are plenty of things fans didn't know they could do in TS4 and new intuitive controls – like the ability to pull walls to expand them rather than knocking them down to start again  – make building in the game better than ever.
Even without the ever-popular color wheel of its predecessor The Sims 3, the game still provides enough interior design options and styles to keep players happy for hours on end. After all, there have been eleven expansion packs, ten game packs, eighteen stuff packs, and nine kits to date – most of them full of wall and flooring options, furniture, and decorations. The Dream Home Decorator game pack even lets sims become interior designers themselves.
NEXT: The Sims 4's Best Expansion Packs
Could Knights Of The Old Republic Remake Finally Lead To KOTOR 3?