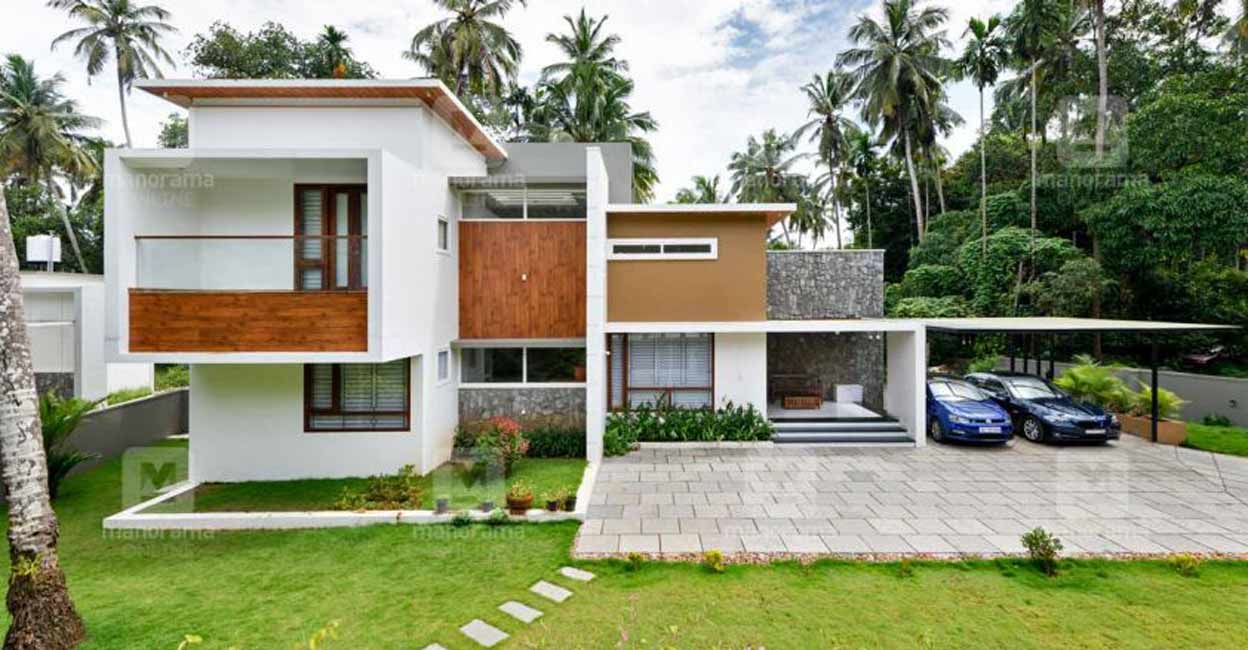 Kozhikode home attracts attention for its design brilliance, landscaping | Lifestyle Decor
The verdant lawns and the beautiful garden that perfectly complement the elegant structure is the highlight of Arun's brand-new house at Chetttikulam in Kozhikode, Kerala. The minimal features of the house have been enhanced with practical designs and space-efficient elements.
The elevation features the elegant, linear–box style. Fundermax wooden panelling and the show wall with rock claddings are incredibly attractive and grant more definition to the structure. The car porch, meanwhile, has been built-in GI frame with glass roof.
The landscape has been designed by retaining most of the trees in the plot. Meanwhile, the unique layout of the plot, which lies in varying levels, too has been retained. Tandoor stones are paved on the driveway.
Designed in 2554 sqft, this amazing abode has a car porch, living and dining areas, kitchen with a work area, three bedrooms and upper living area.
The stone wall adds a rustic charm to the sit-out. Meanwhile, the wooden furniture and shoe rack complete the quaint sit-out. The formal living area has been arranged in double height. The wooden tiled flooring adds the perfect contrast here. The glass wall above the double-height living area brings lots of natural light into the house.
The dining area is arranged close to the living space. White vitrified tiles have been paved on the floor here to separate this area from the rest of the house. The custom-made glass-topped dining table and the cushioned chairs match the minimal theme of the interiors.
The double-height stairway is built-in GI frame and has steps made in irul wood. An aquarium is arranged beneath this stairway. The wall beside the stairway has been turned into a photo wall where precious family moments have been immortalized.
The stairway leads to a spacious upper hall. This area has glass walls on three sides which helps in illuminating the house with natural sun rays. A simple hanging cot too has been arranged here.
The modern kitchen has been furnished in the pleasant colour theme of light blue and white. The cabinets are done in multi wood with PU paint finish. A quaint breakfast counter paved with black granite too is part of the kitchen area. Meanwhile, the black granite paved countertop is spacious. Interestingly, a few framed paintings have been used to decorate the walls here.
The bedrooms are well furnished and have all the required facilities. Full-length wardrobes, dressing areas and attached bathrooms are some of the features of the bedrooms.
The classy elegance of white and wooden combination dominates both the interiors and exteriors of this simple yet fabulous abode. The family, meanwhile, is thrilled that they have moved into their dream abode.
Project Facts
Location – Chettikulam, Calicut
Plot – 21 cents
Area – 2554 SFT
Owner – Arun R
Designer – Mukhil MK, Dijesh O and Babith SR
Concern Architects
Mob – 9895427970
Year of completion – 2020